Starting a business can bring many benefits. It has greater potential than a corporate career. Moreover, an entrepreneur can gain insights into how startup businesses work. And if a startup succeeds, its owner can achieve financial independence.
But, building a business is not all roses. It demands lots of work, an open mind, good communication skills and flexibility. Funding a business is the most stressful part. Thus, in this article, we will discuss:
– business financing,
– steps to take before seeking investments,
– types and stages of funding for startup companies.
What Does Startup Funding Mean?
Funding for startups is money that entrepreneurs use to launch their operations. Businesses can use startup funding to
– rent office space,
– hire outsourcers,
– pay a franchise fee, etc.
How many funds for starting a business do entrepreneurs need?
As expected, this depends on the type of business. Starting a small business costs around 30,000 USD on average. But, a 5,000 USD startup investment can be enough for a home-based business. Opening a restaurant would likely cost between 100,000 and 500,000 USD.
Shopify says that a startup business fund should be around 40,000 USD. This amount usually covers the expenses for the first year of operation.
How to Start Up a Business in 2023? – 3 Crucial Steps to Take Before Looking for Funding
Let's face it, 2023 is not the easiest year to secure funding for a startup. In the US and Europe, startup investments have decreased. Depending on the type and region, it went down to 2020- or 2018-year levels. It is how it is. Source: The Pragmatic Engineer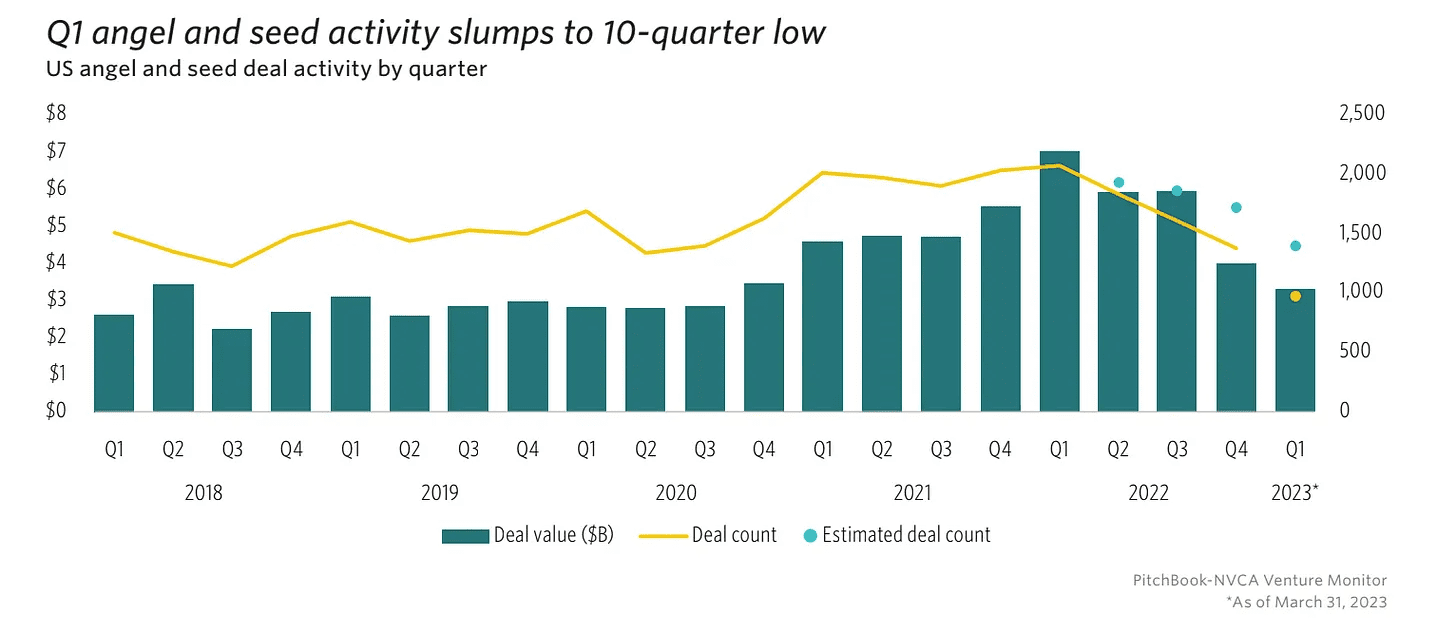 Does it mean that you should give up on your startup idea? Of course not! But prepare for competition. You should look for opportunities to increase your startup's appeal. Before looking for business funding, do the following:
1. Define and Refine your Business Idea
Decide what problems you want to solve. Think why your startup will be valuable. And decide how to handle competitors. Remember, you are more likely to succeed in something you excel at. A logistics expert can operate a delivery platform better than a chef. Or, consider partnering up with someone who has relevant skills and knowledge. This will increase your chance of success. Also, investors in startups will know that your team can complete the project.
2. Conduct Market Research and a Feasibility Study
Do not rely on your intuition. Your idea may be irrelevant. In fact, 7 out of 10 businesses fail. The most common reason is the lack of market need for their products or services.
A feasibility study analyzes a business idea. The goal is to make sure it's practical. It can increase your chances of getting investor funding.
3. Create a Business Plan
A well-structured business plan is key to receiving a startup investment. Outline your mission and vision. Describe the target market and marketing strategy. Include financial estimations. The plan should be a roadmap. It will guide you as your startup grows. Yet, remember to stay flexible, consider customer feedback and adjust. You can learn more about business plans in the following sections.
Types of Funding for Startups
When it comes to funding for startups, there are eight options:
1. Self-Funding & Bootstrapping
Around 78% of businesses use self-funding for starting a business. Self-funding works well with bootstrapping. This means reinvesting the company's revenue into further growth.
Funding a business without investors has benefits. First, it allows entrepreneurs to keep control over their companies. Investors in startups might insist on actions that contract a founder's vision. Second, not taking loans means the company doesn't need to spend its income to repay them.
Companies that use bootstrapping are 20% more likely to succeed. This is because it encourages smart spending habits.
But, financial risks for startups are high. Investment for a startup shouldn't exceed what a person can afford to lose.
Another disadvantage of self-funding a startup business is slow growth.
2. Crowdfunding
Crowdfunding means collecting money from many people via online platforms. There are four ways how to get capital in business with crowdfunding:
– Reward crowdfunding
Reward crowdfunding is promising people to provide products or services later. In exchange, they should send you money now. Usually, there are several reward levels. Crowdfunders offer pricier products when you contribute more money. This approach is best for crowdfunding campaigns that provide physical goods. A campaign should last 1 to 3 months. Businesses can usually raise under 100,000 USD.
– Donation crowdfunding
Organizers ask people for donations. They do not offer anything in return. This type works best for charitable organizations and non-profit businesses promoting social causes. Such campaigns can last 1 to 3 months and raise around 10,000 USD.
– Equity crowdfunding
Equity crowdfunding is raising startup business funds from many small investors. In exchange, you provide shares in your business.
Equity crowdfunding campaigns can last longer than two months. They are best for raising 100,000+ USD investment in startups.
But, in many countries, governments regulate this type of crowdfunding. Intermediaries in the US must register with the SEC. Also, businesses must adhere to certain federal limitations.
– Lending crowdfunding
Another option is lending crowdfunding. Entrepreneur takes out a loan. They must repay it within a certain time. This approach suits business owners that do not want to share equity. Lending crowdfunding campaigns tend to be shorter – around five weeks.
Well-known crowdfunding platforms
To raise funding for a startup, entrepreneurs can use:
– Kickstarter,
– GoFundMe,
– Fundable,
– iFundwomen,
– Patreon,
– Crowdcube,
– SeedInvest,
When choosing a platform, read the description and service terms. Some platforms have specializations. For instance, SeedInvest organizes only equity crowdfunding. Crowdfunder is best for the UK market. iFundwomen aims to help female entrepreneurs. Fees are also different for each platform.
By the way, Crowdfunder and Crowdcube use our client's AI-led Customer Data Platform our client, Distil.ai, for their marketing needs. In our case study, you can learn how we helped create this marketing platform.
A word of advice
To succeed, consider the following:
– Market your campaign
Let people on social media and in your surrounding know about your cause. Good marketing can help you raise enough to fund a business.
– Remember about taxes
In most countries, funding raised via crowdfunding is taxable.
– Get a liability insurance
Liability insurance can protect you from unexpected losses. If any of your contributors sues you, insurance will cover expenses.
3. Grants
Governments and private organizations offer various grants for small business startups. Grants are free money given to businesses as a stimulus. You don't need to repay them or give up ownership. But getting business startup grants can be challenging. The competition is stiff.
Grant programs promote positive changes in society or the development of economic areas. For instance, there are grants
– for startup businesses advancing clean energy,
– for female or minority entrepreneurs,
– for young people, etc.
Here are our top grants for business startups in 2023 by category:
Grants for a startup business in the tech industry
– Small Business Innovation Research (SBIR) program;
SBIR is a federal US program for tech startups. The winner can receive from 150,000 to 1 million USD. Plus, they get contracts with US governmental agencies. This is a grant for small business startups with less than 500 employees. To be eligible, companies must be for-profit. The majority ownership must belong to US citizens.
Visa Everywhere Initiative provides grants to startup businesses worldwide specializing in fintech. Winners can receive up to 50,000 USD in funding for startup business needs.
– Grants for business startups on Challenge.gov
This US governmental portal posts various technology-related grants. Right now (July 2023), they offer awards for:
– new approaches to data sharing (500,000 USD),
– LLM AI (100,000 USD),
– innovation in distributed embedded energy converter technology (2.3 million USD),
– adaptable interface development for navy ships (250,000 USD), etc.
Grants for female entrepreneurs
The foundation gives grants to female entrepreneurs from the US and Canada. The offerings range from $10,000 to $35,000. There are 12 winners per year.
The program offers 5,000 to 10,000 USD. The recipients must be Black or Multiracial individuals identifying as women or nonbinary.
– Cartier Women's Initiative Award
This program offers regional and thematic grants to women. Winners receive up to 100,000 USD in funding for their startup.
Minority-owned small business grants for startups
– Minority Business Development Agency (MBDA) grants
This US governmental agency provides a list of various programs for minorities.
– The Coalition to Back Black Businesses
The initiative helps businesses in vulnerable communities owned by Black people. Contesting companies must have 3 to 20 employees, including the owner. Winners can receive 5,000 or 25,000 USD.
Grants for the US businesses
– Federal grants for startup businesses on Grants.gov
The website is a big database for grants from different US federal agencies.
EDA grants are good for small business startups. The EDA's Build to Scale (B2S) program gives grants of up to 1.5 million USD.
– FedEx Small Business Grant Contest
FedEx offers up to 50,000 USD to small for-profit US businesses. The contestant must have been operating for 6+ months. FedEx also demands the need for shipping as a part of the business model. Eligible companies must have a revenue of less than 5 million USD a year.
UK business startup grants
– Grants at Gov.uk
This is the official website of the UK government. It has a list of grants and financing programs.
This is a funding competition organized by NC3Rs. It focuses on the development and commercialization of new technologies. You will learn more about funding competitions later in this section.
4. Venture Capital Investors, Private Equity Firms and Hedge Funds
Other ways to raise funds for a business include:
– engaging venture capital investors,
– private equity companies and, sometimes,
– hedge funds.
All three reinvest investor money into companies with growth potential. In other words, they buy equity to sell it later at a higher price.
Venture capital (VC) funds are the optimal funding option for startups. Particularly those in their early development stages.
Private equity companies invest in established companies. They prefer late-stage startups that have proven their ability to grow.
Like venture capital firms, private equity business funders only invest in private companies. Moreover, both prefer long-term investments – 1 to 10 years.
Now, let's look at hedge funds. Historically, these companies have been traders. They buy publicly traded shares and resell after a short term. Recently, hedge funds have become interested in startups.
Below, we visualized the main differences between these three types of investment firms.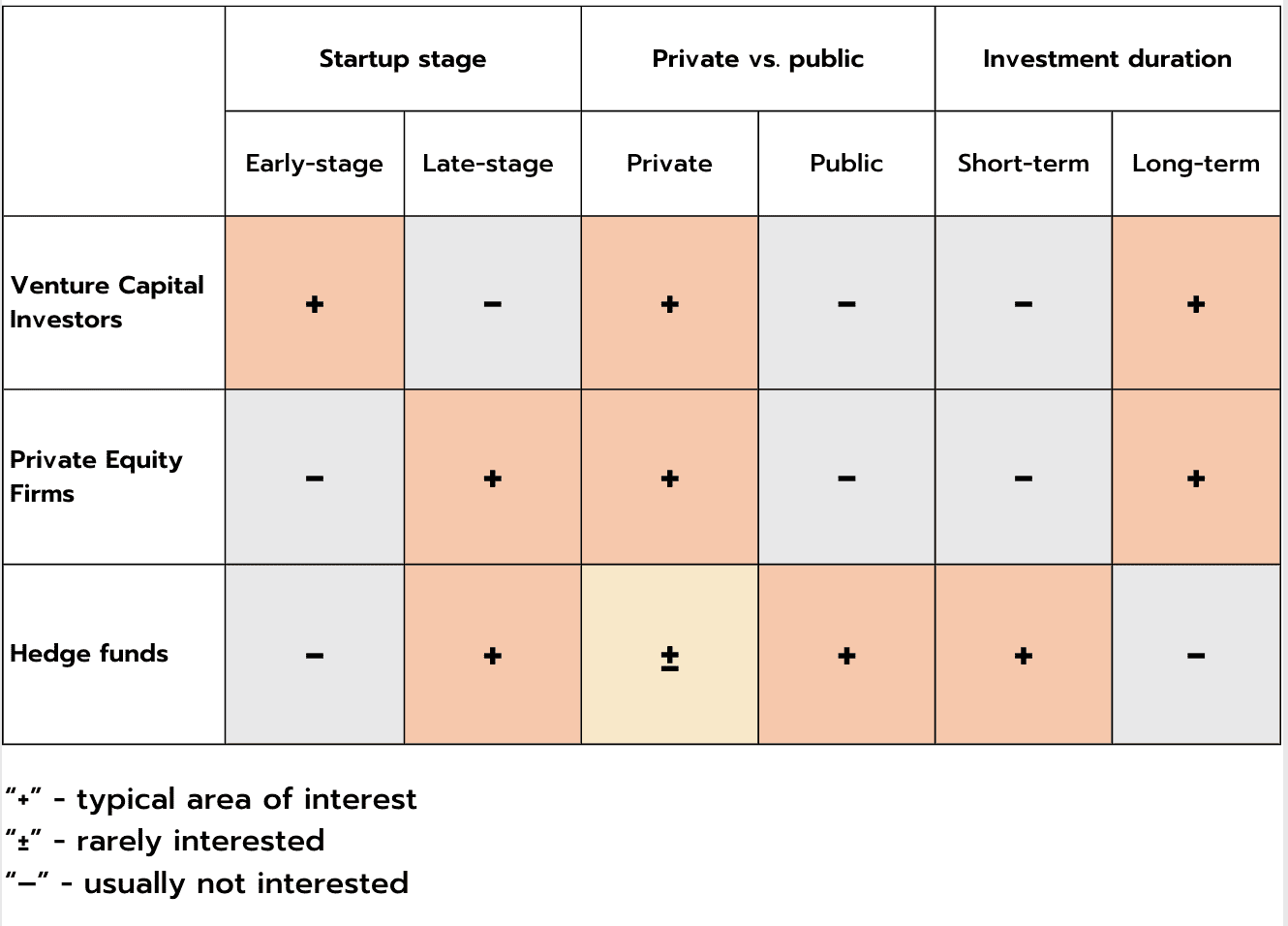 To find an investor for a startup faster, research different funding companies. Pitch your startup to those that prefer investing in similar ventures.
Prominent venture capital (VC) firms are:
5. Startup Incubators and Business Accelerators
Incubators are a good option for early-stage startups. They are particularly valuable for first-time entrepreneurs. These collaboration programs offer different perks. Members can get working space, mentorship and networking opportunities. Sometimes they provide funding for startups. The price can vary based on the help you receive. It could be a small membership fee or a share in the company.
The most competitive incubators usually comprise a group of experienced businesspeople. They choose which contesting startups have the best potential. The winners receive funding for a startup business and help. In exchange, winners provide some equity.
Experienced entrepreneurs help newbies avoid mistakes and take advantage of opportunities. Moreover, they can introduce novice entrepreneurs to the right people. Forging valuable business connections is key to success. Such organizations often have long waiting lists and are selective.
In many ways, business accelerators are like incubators. Yet, they prefer startups in the later stages of development. You can pitch your startup to an incubator if all you have is a business plan. Accelerators favor businesses with at least an MVP (Minimal Viable Product)*. Accelerators give companies resources to grow. They help businesses expand their operations and enter new markets. Sometimes, accelerators provide funding for business startups. Other times, they offer guidance, mentorship and networking opportunities. Many companies offer both incubator and accelerator types of help.
* MVP (Minimal Viable Product) is a basic version of a product. It has enough features to be functional and to attract early adopters.
Top business incubator and accelerator programs are:
👩🏻‍💻💡The Netherlands offers Startup Visas to promising foreign entrepreneurs. Visa recipients join their national business incubator/accelerator programs. Eligible candidates must prove that their business idea is innovative. Moreover, they should have a plan on how to advance it.
Canada, the UK, Australia, Singapore and Denmark offer similar startup visa programs.
6. Angel investors
Angel investors are successful, wealthy entrepreneurs. They invest their funds in companies with high growth potential. These are investors for startups in the early development stages. Angels buy equity to sell later at a higher cost. Akin to incubators, they can provide advice or networking opportunities. Entrepreneurs can find an angel startup investor via dedicated platforms.
Popular platforms to find angel investors in startups are:
– Angels Invest Wales (for Welsh companies)
7. Startup funding competitions
Startup competitions invite early-stage businesses. Winners get equity investment, grant money, contracts, or other benefits.
In 2023, the top upcoming competitions for startup businesses worldwide are:
The event will occur in San Francisco from November 29 to December 1. The main prize is 1 million USD as an investment.
World's top early-stage startups will meet in Lisbon on November 13-16. There is no monetary price, but the exposure is priceless.
The contest will occur in San Francisco on September 19-21. The prize is 100,000 USD.
– Slush 2023,
This networking event will take place across four cities. These are Tokyo, Shanghai, Singapore and Helsinki. The dates of the event are November 30 to December 1.
This is a great opportunity for Canadian startups to win up to 30,000 CAD as grant money. The organizers do not accept applications for this year anymore. But, the organization regularly hosts similar events.
On the F6S platform, you can find many upcoming business competitions. They offer information about events in 10 countries worldwide.
8. Loans as a source of funding for business startups
Lending is a good way to secure business funding for startups. It allows entrepreneurs to keep ownership and build credit. There are several ways of funding a startup business through loans:
– Taking a term loan;
A term loan is a one-time large upfront payment. A business must repay it over a fixed period. Term loans have low-interest rates. Banks provide them for 10 to 25 years. Such loans can be difficult to get.
SBA loans are a type of term loan. US Small Business Administration (SBA) helps small businesses get funding. They back loans provided by banks. This reduces risk and makes lending to small businesses more attractive. SBA offers several loan programs. The "7(a) loans" is the most popular program.
🌱🏛️ Term loans are a great way to get startup funding for a business.
– Opening credit lines;
A line of credit (LOC) is an agreement between the borrower and the lender. It allows businesses to borrow money whenever needed up to a certain limit. There is no need to go through the confirmation process each time.
– Financing equipment
Equipment finance is a loan to buy business equipment. This can be any physical asset aside from real estate. Such loans can be a nice contribution to a startup business fund. Moreover, businesses can secure good interest rates since the equipment is collateral. The loans' duration ranges between several months and ten years. Once the company pays off the loan, it can use the equipment as collateral for other loans.
– Using peer-to-peer (P2P) lending;
This is a form of alternative financing. With it people can lend funding to startups via dedicated platforms. One or several lenders can give a single business loan. Lending crowdfunding is a type of P2P lending.
– Financing invoices;
Businesses can borrow small amounts of money against unpaid invoices. In other words, a company can get cash now from the lender. When their customer pays them, the money goes to the lender.
How Does Startup Funding Work?
Usually, startups have several funding rounds. Entrepreneurs must evaluate their startups before each. Business funders are usually interested in the following:
– the company's track record,
– market size,
– profit,
– risk levels,
– governance and
– maturity.
The common stages of startup funding
Most startups go through 7 stages of startup funding:
1) Pre-seed funding
This is the first stage when entrepreneurs start business funding. Self-financing is popular during this time. Other viable options are bootstrapping, grants, crowdfunding, incubators and angel investors.
Businesses use initial investor funding to create
– mock-ups,
– demos,
– prototypes and,
– sometimes, MVPs.
2) Seed funding
Seed funding is the second phase of raising funds for a business. It is crucial for covering the cost of an MVP, beta-testing, marketing and product launch.
Seed funding sources usually are:
– angel investors,
– venture capital firms,
– incubators & accelerators,
– crowdfunding and
– grants.
3) Pre-series A funding
Now, the company's services should be on the market. Now, businesses build a customer base and test product-market fit (PMF)*. Funding sources are the same as for seed funding.
*Product-market fit (PMF) measures how well a business satisfies market demand.
4) Series A funding
The product should be ready at this point. It should have all the necessary features. Moreover, the company will likely have a certain market share. The main funding investors now are venture capital funds and angel investors.
5) Series B funding
Series B funding is for businesses with a developed product. The company's main goal now is to scale. Series B investors for startups are venture capitalists and private equity firms.
6) Series C funding
Now, a company should have a large market share. It can cost 100+ million USD. It is a safe investment and attracts banks, hedge funds and private equity funds.
7) Initial Public Offering (IPO)
IPO marks a company's transition from private to public. When the company goes public, it lists its shares on one or more stock exchanges.
Businesses must meet government and stock exchange rules to hold an IPO.
🧑🏻‍💻💡Did you know that Mark Zuckerberg owns less than 13% of Meta's shares but has around 54% of the company's voting power? This is because there are two types of Meta shares. Class A stock owners receive one vote per share, while Class B – 10 votes per share. Class B stocks are mainly owned by Mark Zuckerberg, Meta management and directors. This allows them to make all key decisions about the company's future.
How to Get Startup Funding for a Business? Top 5 Tips on How to Succeed
We have five tips to help you get funding for a startup and increase your company's chances of success:
1. Choose the Industry Carefully
The golden rule is to start a business in the industry you know. Yet, some experts, like salespeople or project managers, have universal skills. They can partner up with professionals in various fields to co-create a startup. Such entrepreneurs can consider fast-growing industries and businesses that are easy to start up.
The easiest startup businesses are:
– online reselling,
– content creation,
– selling print-on-demand products and
– tutoring.
Hand-made manufacturing is also an easy business to start up. Handy people can craft custom soap, jewelry, furniture and other items. It needs little upfront cost. You can get a small loan or use bootstrapping.
Industries developing the fastest in 2023 are:
– healthcare,
– shipping & delivery,
– travel,
– food,
– online retail and
– AI tech.
2. Don't Neglect Preparation: Do Market Research and Run a Feasibility Study
As mentioned, most businesses fail because they lack demand for their products/services. Hence, market research is crucial for securing investment in a startup. Market research includes
– interviewing potential customers,
– gathering a focus group,
– researching the competition,
– conducting surveys, etc.
Feasibility studies assess business ideas from legal, technical and financial standpoints. We recommend you consult a lawyer, an accountant and a technical expert. This will also help you identify potential business risks.
3. Create a Detailed Business Plan and an Easy Startup Pitch Deck
A business plan and a pitch deck are great persuasion tools. They help entrepreneurs get investment in a startup.
Usually, business plans include:
– company description,
– business goals,
– product or service description,
– market research findings, including competitor analysis,
– an outline of marketing and sales plans,
– financial projections,
– feasibility study results, including identified risks and risk management plans.
Comprehensive business plans with scalable business models are the most lucrative for investors.
A startup pitch deck is a short presentation. This is the essence of your business plan. It should convince viewers that they need to learn more. Use short phrases, simple diagrams and present key figures. Do not make it complicated.
4. Use the Power of Networking
Networking is key to finding investors and potential business partners. You can visit various conferences, competitions and other business events.
Bring a laptop with your startup pitch deck. This way, you will be ready if an opportunity to present your startup arises.
Check out our list of top upcoming competitions for startups in 2023.
5. Build an MVP before a Full-Featured Product
When you have initial funding and plan for future rounds, you can build an MVP.
A Minimal Viable Product (MVP) is a product version that has enough features to be usable. An MVP should attract early adopters. This will help you get feedback and understand your target market's needs better.
Having an MVP is beneficial. First, this is something tangible to show potential investors. Second, feedback from MVP users will tell you which additional features you need. Thus, you will save resources and maximize returns.
Conclusion
Starting a business can be challenging, particularly when it comes to raising funds. And 2023 has not been this decade's best year for investor-hunting. Yet, entrepreneurs who prepare well will likely get funding for their startups.
Sources of funding for a startup business include:
– angel investors,
– crowdfunding,
– grant funding,
– venture capital & private equity firms,
– financing competitions, etc.
Most startups go through several rounds of funding.
To succeed at engaging investors, entrepreneurs should:
– choose an industry they know,
– conduct market research and a feasibility study,
– create a detailed business plan and a captivating pitch deck (presentation) and
– take part in relevant business events.
FAQ
1. How long does startup funding last?

Funding can last for years. Many startups don't become profitable until the year 2 or 3.
2. How do I convince investors for my startup?

Getting investment in a startup demands preparation. Conduct market research and a feasibility study. After this, prepare a detailed business plan. You should also create a simple pitch deck.
3. Can a startup grow without funding?

Yes. Entrepreneurs often use bootstrapping to grow their businesses. This means they reinvest revenue into business growth.
4. What to do after startup funding?

Act according to your business plan. You can prepare a product prototype and an MVP. Also, gather user feedback, improve your product and conduct a marketing campaign.
5. How many startups fail to get funding?

Around 29% of failed startups ran out of cash.