The global IT outsourcing market has been growing steadily over the past 7 years, reaching nearly 1.3 trillion USD in 2022. So, why increasingly more companies choose to outsource? The most common reasons are:
– Cost reduction
The US, Canada, various Western European countries, Israel and Australia, have some of the world's highest rates for software development. Two common explanations for this are the high demand and cost of living. Naturally, in the era when remote is becoming commonplace among white-collar workers, businesses look for top IT talent abroad.
The cost savings of outsourcing are significant. For instance, in our previous article, we compared the costs of developing software in-house in the UK vs. outsourcing to Eastern Europe – the latter is 64% cheaper on average. And this number can go as far as 73%, depending on the chosen country.
– Better VfM
The best part about outsourcing is that it allows businesses to save costs while preserving a high level of quality. There are several IT hubs in the world – countries and regions with a high concentration of excellent tech talent and expertise. Eastern Europe is one such region, having around 1.3 million experts.
– Expertise and faster hiring
Western-European companies often struggle to find necessary software development experts to hire in-house. Particularly in Nordic countries, there are simply not enough developers in the labor market to meet the demand. Engaging specialists from abroad under outsourcing and staff augmentation models helps alleviate the shortage.
For non-tech companies, outsourcing is an intelligent way to receive expertise and quality services without breaking the bank. Good outsourcing companies examine clients' business models. Thus, they can make informed suggestions on what features and technologies would be the best for a project. With years of expertise, outsourcing experts can offer the best option to achieve clients' goals.
– Improving company focus and efficiency
Trying to manage every process in your supply chain can be exhausting and hugely inefficient. Whether you run a bakery or create the next generation of spaceships, outsourcing can help a company focus on its main activity, thus increasing its overall efficiency.
– Better risk management
Each project risk should be allocated to the party that can manage it better. In the case of software outsourcing, experienced contractors will better understand what risks might stall the project. Moreover, you can discuss the project's time and budget limits with your contractor and hold them liable for overruns.
Key Benefits of Software Development Outsourcing to Eastern Europe
Not all outsourcing destinations are equally good. When it comes to software development, Eastern Europe is a great area – full of top-tier talent, most of whom have already proven their skills by working on grand, international projects that are reshaping the world as we know it today. Thus, many top tech global companies, including Google, Apple, Microsoft, Samsung and countless others, have established their Research & Development (R&D) centers in Eastern Europe.
Here are the key advantages of outsourcing software development to Eastern Europe:
1. A big pool of tech professionals
The Eastern European market has over a million tech experts. Most of them live in Poland and Ukraine – around 280,000 and 250,000, respectively. Romania and the Czech Republic also have high concentrations of tech talent.
2. Top-quality technical education
Tech education in Eastern Europe is strong. There are hundreds of distinguished universities in the region, many of which have made it to the top 500 of QS' World University rankings. Each year, the Eastern European markets are flooded by tens of thousands of tech graduates eager to hone their skills.
3. Cost-effective hiring
Eastern European software companies offer very reasonable development rates. Thus, hiring a developer from Ukraine is about 2 times cheaper than a similarly qualified person from the UK. And it is 4 times more cost-effective than hiring a software developer from the US.
Moreover, prices in many Eastern European countries are comparable to rates in other major software development outsourcing regions – South America, Asia and Africa.
4. Best cultural fit
Eastern Europe is hands down the best cultural fit for companies from Western Europe, the US, Canada and Australia. Business culture, communication and standards in Eastern Europe are practically the same.
South America is the runner-up in this regard. Although you might expect colleagues from this region to be somewhat late, major miscommunication is unlikely.
The same cannot be said about Asia. In general, Asian people are less straightforward about their opinion and ideas. When they say "yes" they can mean they understand you, not that they agree. Moreover, subordinates often avoid asking clarifying questions.
In African countries, socializing and networking are often crucial to business success. In general, expect interest in you as a person. During offline communication, African colleagues can invite you to eat together. A flexible attitude to time is also required. Your colleagues might be late. Moreover, power and internet outages in Africa are not uncommon. Therefore, flexible working hours are appreciated.
5. Strong data security
Since most Eastern European countries are either EU members or candidates, they adhere to the EU's laws regarding data security, including the GDPR (General Data Protection Regulation) – a law widely considered the strictest in the world.
Furthermore, Eastern European outsourcing companies are eager to build a reputation as reliable tech partners.
6. Proficiency in English
According to the EF English Proficiency Index, most countries in Eastern Europe have "High proficiency" in the English language. At the same time, Poland is marked to have "Very high proficiency," and several countries have "Moderate proficiency," which is quite enough for a business setting. No Eastern European country has "Low proficiency" or "Very low proficiency." Also, keep in mind that this index measures average competence levels in a country's population – those who work in the IT sector tend to have better English skills.
Top 5 IT Outsourcing Destinations in Eastern Europe
To bring you the list of the top 5 best countries in Eastern Europe for software development outsourcing, we compared the key players in the regional IT market.
Choosing the right criteria is not straightforward. We evaluated various indicators of the countries' IT sector success, including the overall number of developers, the annual number of tech graduates, the IT (ICT) industry growth rates, etc. Since cost reduction is the main reason companies outsource, we considered countries' average development prices.
Moreover, to access quality, our team has analyzed various international ratings and reviews, including the Global Innovation Index 2022, The State of European Tech Report of 2022, the Global Skills Report of 2022, TheTopTens' list of Most High Tech Countries, the Science & Technology rating of The Good Country Index, EF English Proficiency Index, the HackerRank's list of top countries by programming skills and the review ratings on Clutch. Here are our top recommendations:
🏆 The 1st place: Ukraine – the fastest growing IT industry, the best talent and value
High expertise, low development costs and unprecedented levels of tech sector growth make Ukraine the best country in Eastern Europe to outsource software development in 2023.
Booming IT industry despite the war
Did you know that the Ukrainian IT industry is one of the fastest-growing in the world? It is tied with Irish for the highest growth in Europe – both countries' IT exports increased by 158% between 2017 and 2021. This averages around 40% annual growth – twice the rate of its closest Eastern European competitors, Romania and Poland.
Well, what about the war? In February 2022, Ukraine was attacked by Russia. Interestingly, the war didn't impact the Ukrainian tech sector much. While the rest of the country's economy is struggling, the IT industry continues its rapid growth. The State of European Tech report of 2022 has devoted a whole section to the current state of the Ukrainian IT industry.
Ukrainian IT companies retained 95% of their contracts and continued to attract new clients. By October 2022, the Ukrainian tech sector had already exceeded pre-war levels. Overall, in 2022 Ukrainian IT exports amounted to 7.3 billion USD. In 2021 it was 6.9 billion USD and in 2020 – 5 billion USD. Source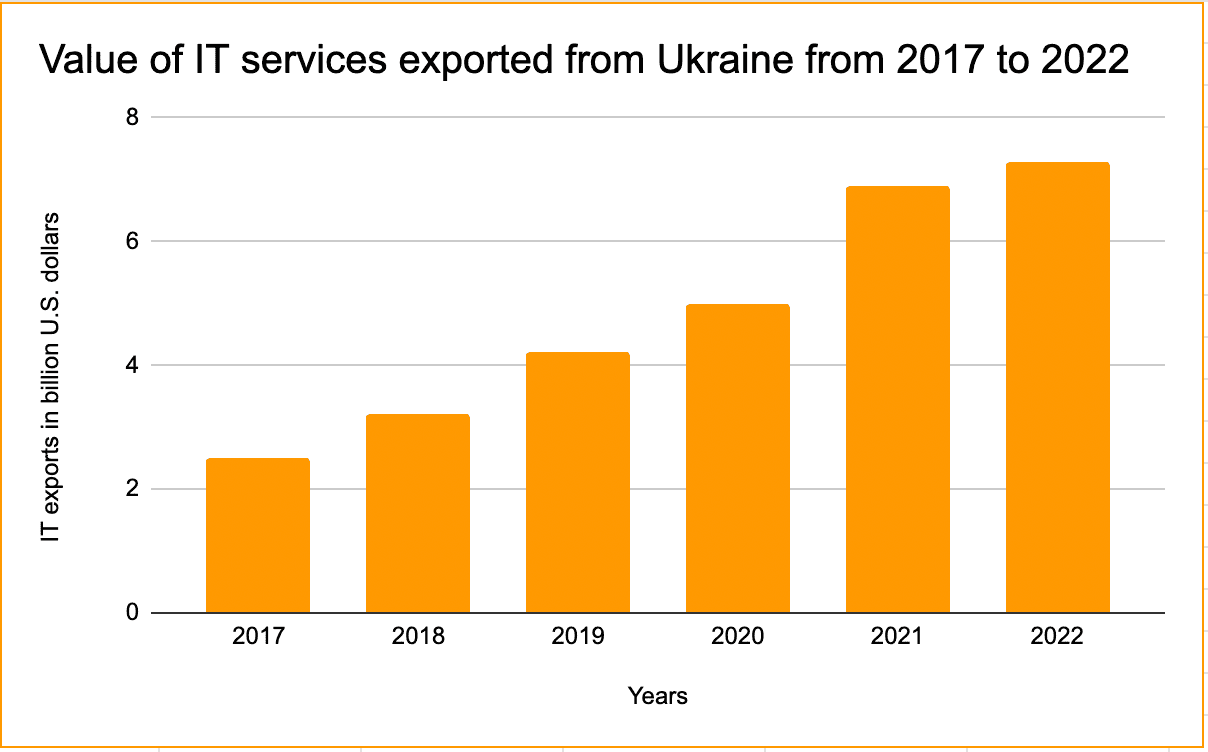 High quality
The quality and expertise provided by Ukrainian experts are very high. The country is home to more than 110 R&D centers belonging to various international tech giants, including Google, Microsoft, Samsung, Siemens, Boeing, Oracle, BlaBlaCar, Ericsson, Lyft, Payoneer, Reddit, Ring (part of the Amazon group), ABBYY and Glovo.
Ukraine is the birthplace of many international tech corporations and unicorn startups, including Grammarly, GitLab, People.ai, RefaceAI, Preply and Ajax Systems. Ukrainian developers abroad have founded or co-founded numerous tech giants – WhatsApp, PayPal, Firefly Aerospace, Sila Nanotechnologies, Ring (now belongs to Amazon), airSlate, BitFury, Affirm, Revolut, etc.
Naturally, Ukraine ranks high in various international tech rankings and polls. Thus, the country is 11th worldwide in HackerRank's list of top countries by programming skills. In the breakdown by subject, it is 1st in security and 4th in distributed systems and mathematics. Ukraine also ranks 1st in the Science & Technology part of The Good Country Index. The Global Skills Report of 2022 names Ukraine among "Cutting-edge" countries, ranking it 21st globally, with a score index of 93% in technology and 81% in data science. The country is also 25th in TheTopTens' list of Most High Tech Countries.
Ukrainian tech expertise exceeds outsourcing. Thus, over the past 5 years, the Ukrainian government devoted much time and effort to developing good e-governance. One of the country's most significant achievements is the Diia app – a mobile app and a web e-governance portal that allows Ukrainian citizens to use digital documents instead of physical ones. You can do everything from opening a bank account to voting with a secure digital document on your phone. Ukraine is the first country in the world to offer such a service. Many countries, including Estonia, now consider developing similar apps based on Ukraine's experience.
The best value
The low cost of living and extensive talent pool allows Ukrainian companies to offer the best prices compared to other Eastern Europe outsourcing destinations. In the table below, we provided average agency rates in Ukraine and some of its neighbours based on numbers from Clutch.co. You can find a detailed cost analysis in the next section.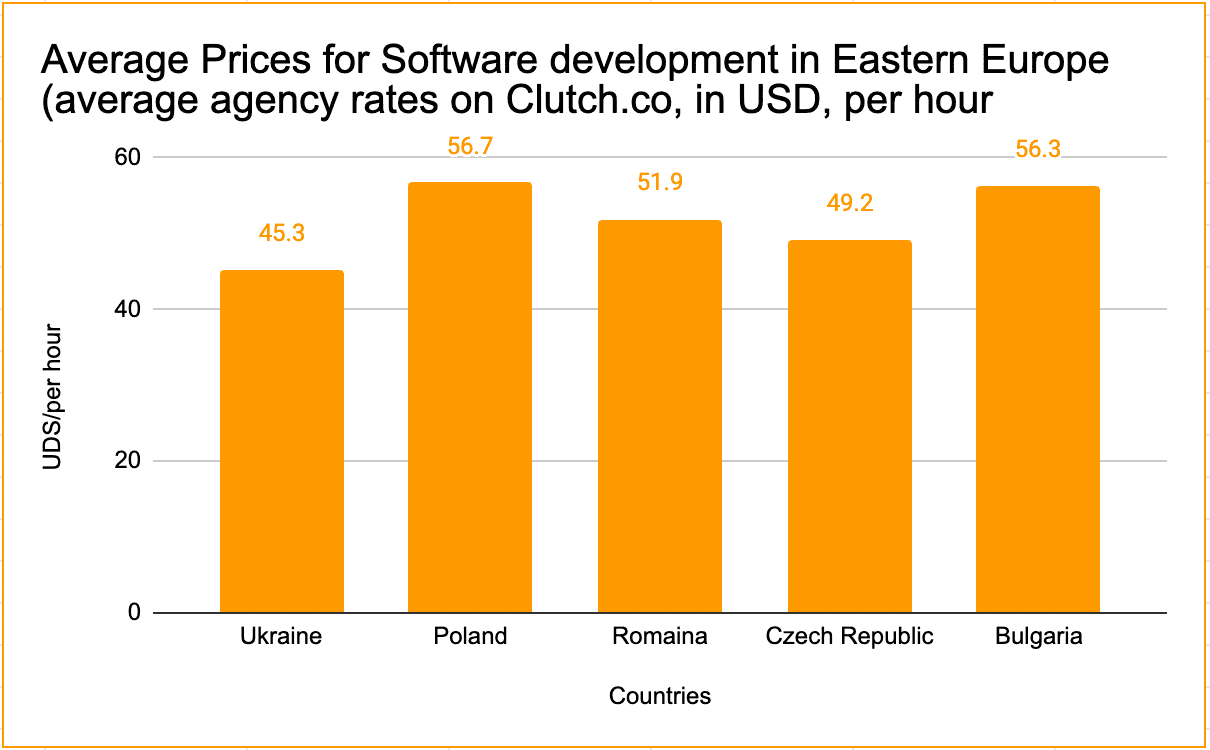 As you can see, Ukraine is the most cost-efficient among Eastern European outsourcing hot spots. The Czech Republic is coming second. Poland and Bulgaria are the most expensive on the list.
High expertise and low prices make Ukraine a premier destination for software development in Eastern Europe. You can see another confirmation of this in the Global Innovation Index 2022. The index evaluates how well the countries are doing in terms of innovation, considering their income level, Source, p. 20: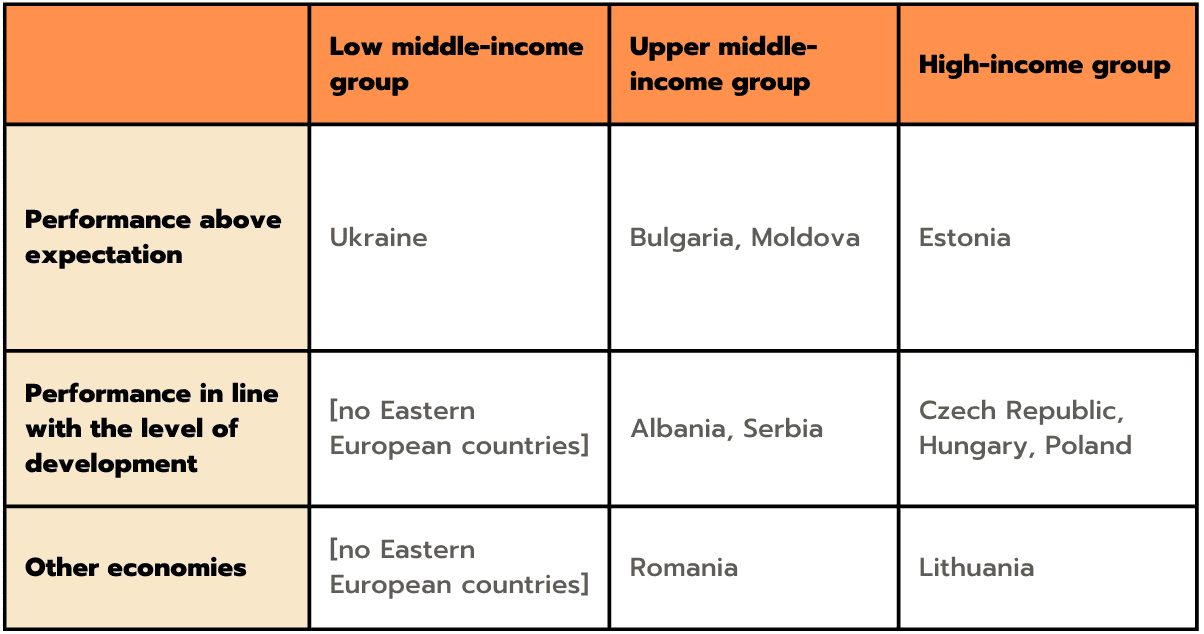 Ukraine is at that sweet spot, where the country has high technical expertise yet a low cost of living and, consequently, low development prices.
Our team also researched top performers on Clutch – we set the region to Eastern Europe and sorted companies by review ratings. As a result, out of the top 10 companies, 5 were from Ukraine, 4 from Poland and 1 from Estonia.
Extensive and ever-growing talent pool
As mentioned, Ukraine has around 250,000 developers. This is the second largest IT talent pool in the Eastern Europe market after Poland.
Moreover, this number is growing fast every year. In Europe, Ukraine has the most IT students measured in absolute numbers and the highest concentration of IT graduates as a percentage of the population. Thus, Ukraine has 43% more IT grands than the runner-up, Poland, 53% more than France and 70% more than the UK, Source, p. 87: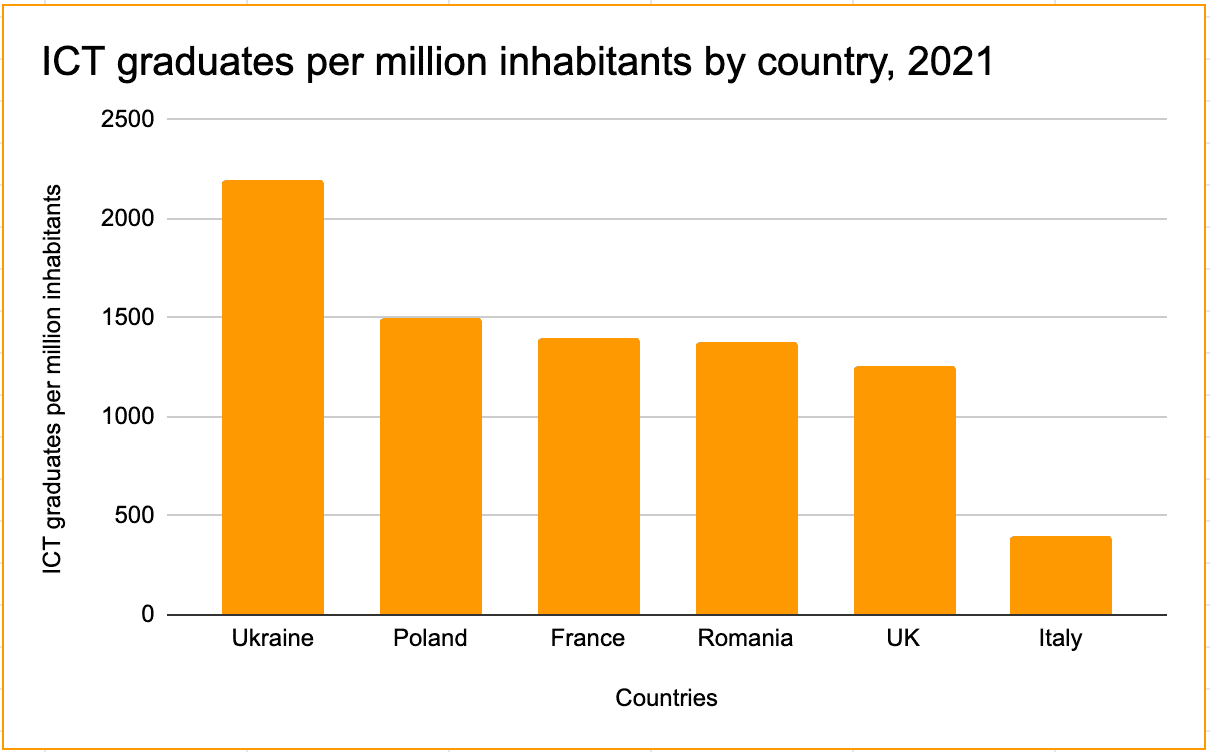 In 2023, the most popular programming languages in Ukraine are JavaScript (19.1% of respondents), Java (14%), Python (13.4%), C# (13.3%), TypeScript (13.3%) and PHP (7%).
Potential disadvantages: While the Ukrainian IT sector was largely unaffected by the war, one thing changed – citizens subject to conscription (mostly men) cannot leave the country now. Hence, an in-person meeting with a colleague from Ukraine might be challenging to organize. Also, the country has a moderate average level of English proficiency. It is enough for most business communications, but you might find Ukrainians lacking eloquence.
🥈 The 2nd place: Poland – leading in IT exports and the number of developers
Poland is an excellent choice for anyone looking to outsource software development in Eastern Europe. The country has a robust tech sector with around 280,000 developers – the highest number in Eastern Europe.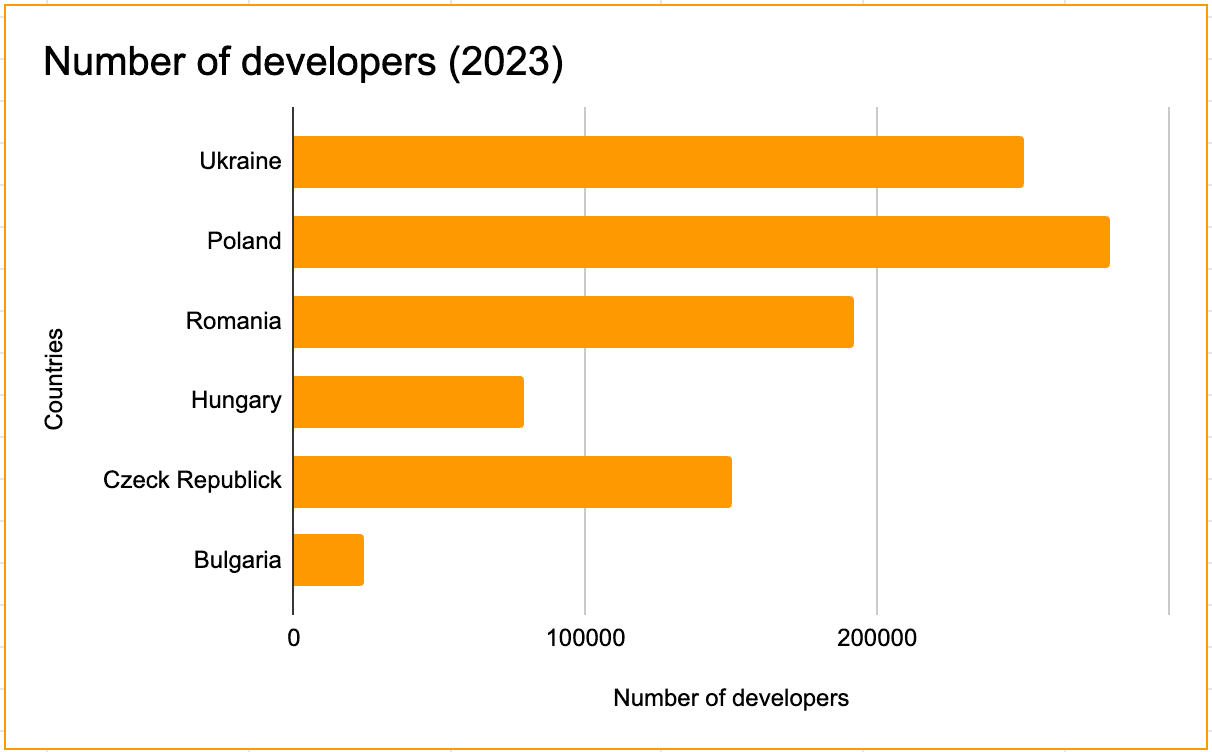 Moreover, Poland has the second largest, after Ukraine, concentration of IT graduates in Europe – around 1500 per million inhabitants.
The country is also leading the East European market regarding IT service exports. In 2021 their value exceeded 10 billion USD. The number is expected to rise to 13 billion by 2026. The IT industry accounts for 8% of the country's GDP. Game development is most notable, with 500+ games produced annually in Poland.
Poland and Romania have demonstrated 82% IT industry growth between 2017 and 2021 – one of Europe's highest rates, surpassed only by Ukraine, Ireland and Finland.
While rates in Poland are typically higher than in neighboring countries, the quality is also splendid. Poland scored 3rd worldwide on HackerRank's list of top countries by programming skills. The Global Skill Report lists Poland in the "Cutting-edge" category, with 20th place worldwide and score indexes of 92% in technology and 80% in data science. Moreover, of the top 10 Eastern European software development companies on Clutch, 4 are from Poland (5 are from Ukraine and 1 from Estonia).
Another advantage is the high level of English proficiency among Polish citizens. In fact, Poland is the only Eastern European country marked as having a "Very high proficiency level" by the EF English Proficiency Index.
Potential disadvantages: When considering Poland, beware of individuals who might be ill-fitted in terms of culture. Many Poles uphold conservative religious views and are often intolerant of LGBTQ+ representatives. Poland is notorious for passing anti-LGBT laws, including declaring "LGBT-free zones."
🥉 The 3rd place: Romania – dynamic IT market
The Romanian IT sector is growing fast. It is tied with Polish for the 4th fastest growth in Europe. Look at the graph below – in 2015, Romania's IT exports amounted to around 3 billion USD. In 2021 this number reached 8.25 billion USD, Source: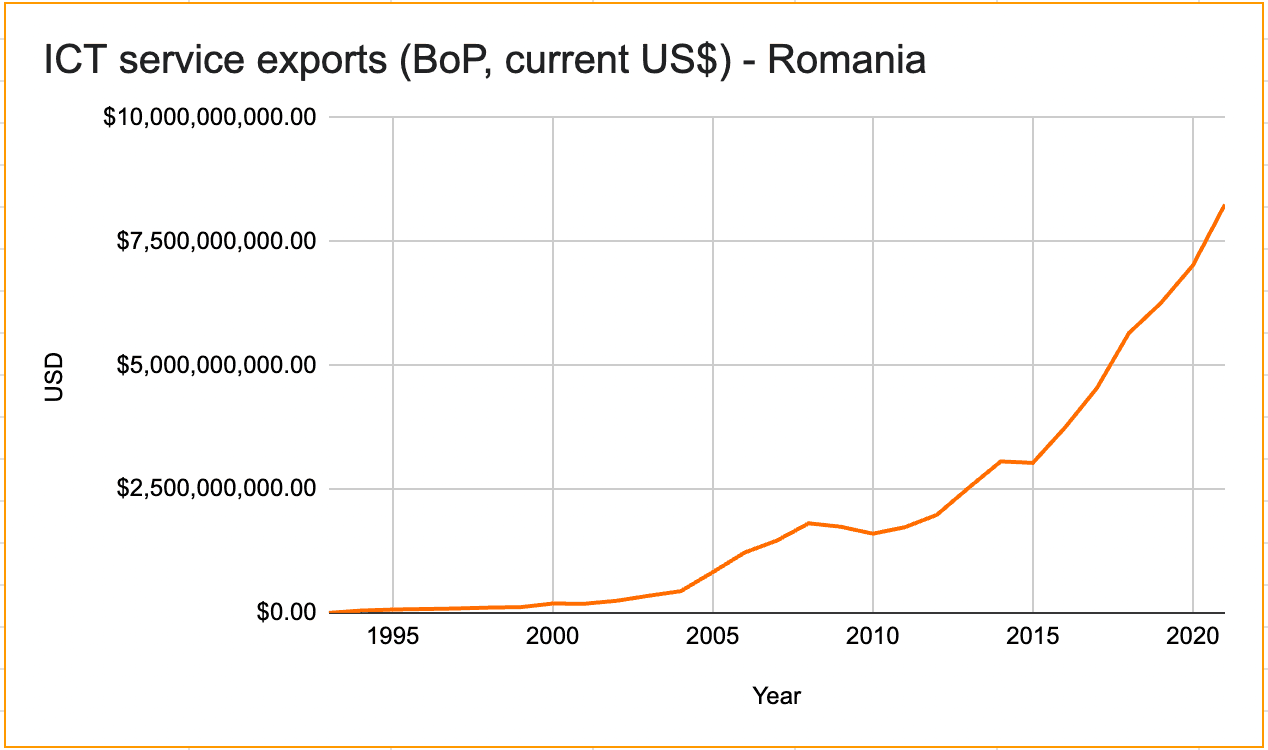 The country has nearly 200,000 developers and Europe's 4th highest concentration of IT grads, hinting that the growth will continue. Another advantage is a high level of English knowledge among the population.
The average outsourcing agency rate here is 51.9 USD per hour which is lower than Polish and Bulgarian prices but higher than Ukrainian and Czech rates.
Potential disadvantages: If your project is highly complex, finding developers with a suitable level of expertise in Romania might be more challenging compared to other Eastern Europe software development hubs. Despite the size of its IT industry, the country doesn't score very high on many of our chosen ratings. For instance, it is 20th in HackerRank's list of top countries by programming skills and 40th on the Global Skills Report, with a 76% index in technology and 46% in data science.
The 4th place: Czech Republic – a solid choice
The Czech Republic is an increasingly popular outsourcing destination in the East Europe market. The country's IT industry constitutes around 8% of its GDP. It is home to over 150,000 developers. The most popular programming languages in the Czech Republic are Python, SQL, JavaScript and C#.
The country offers high-quality services for reasonable prices. Thus, the average agency rate is 49.2 – the second lowest after Ukraine (45.3 USD).
The Czech Republic took 9th place on HackerRank's list of top countries by programming skills. In the section breakdown, it ranked 1st worldwide for Shell, 2nd for mathematics and 4th for security. The country is also 4th in the Science & Technology rating of The Good Country Index and 30th worldwide (19th in Europe) on the Global Innovation Index 2022. Czechs also have high English proficiency.
Potential disadvantages: The country's IT industry growth isn't nearly as fast as in other countries. A likely explanation is the low number of IT graduates. Another issue is that the Czech Republic's IT industry experiences a severe gender imbalance. Thus, the country has the lowest representation of females among tech founders in Europe, according to The State of European Tech report of 2022.
The 5th place: Bulgaria – a good level of expertise
While Bulgaria's IT sector is smaller than its competitors, it is essential to the country's economy. Bulgaria's digital economy accounts for more than 8% of the country's Gross Value Added (GVA) – that is about on par with the US rates and far more than the European average of 6%, Source, p. 50: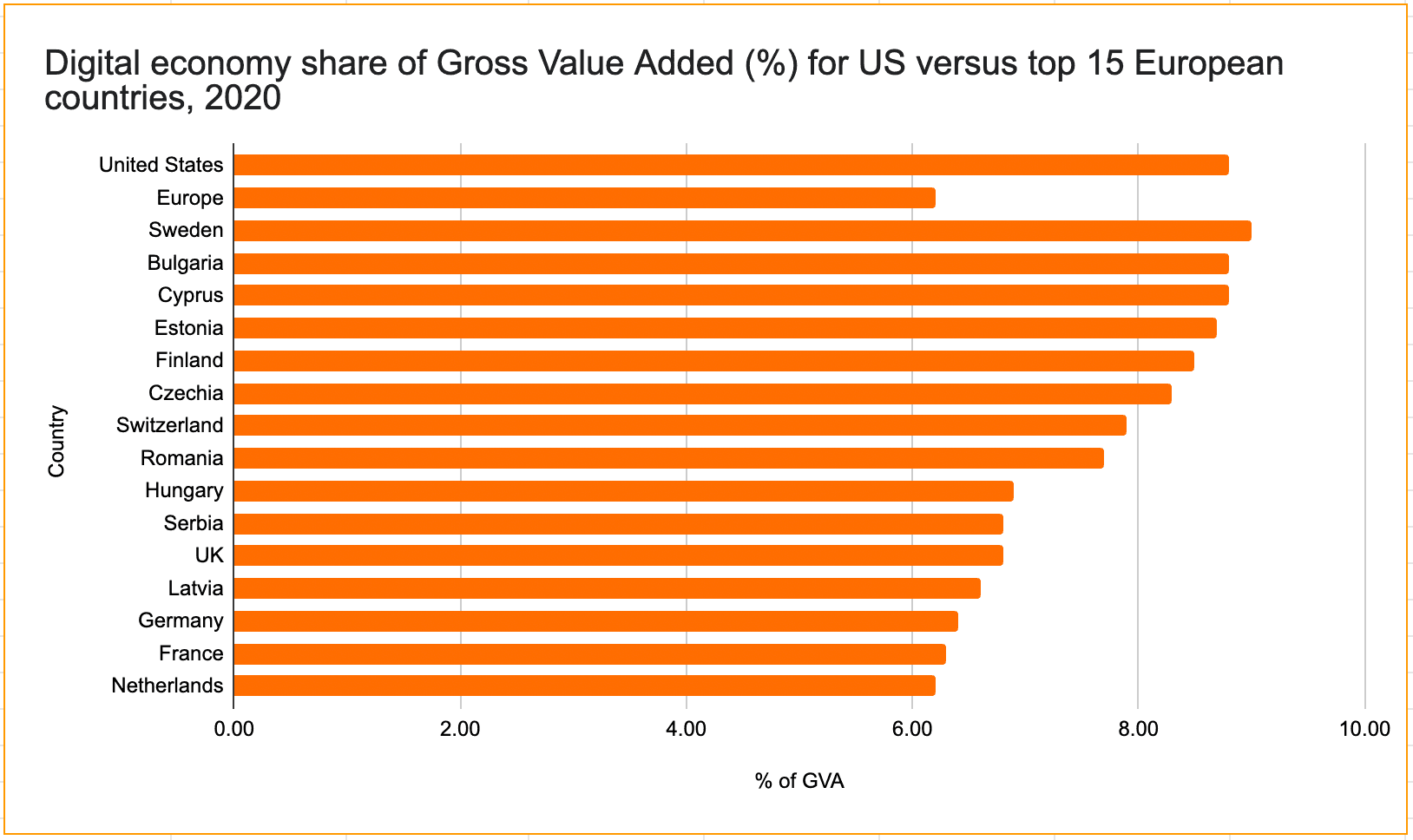 Bulgarian ICT exports are around 1 billion USD per year. The industry's annual growth rate reached 26% in 2022.
The quality of IT services in Bulgaria is high. HackerRank's list of top countries by programming skills ranks Bulgaria 12th worldwide. The Global Innovation Index 2022 ranks Bulgaria 2nd in its income group worldwide, after China. The Global Skills Report of 2022 calls the country "Cutting-edge," giving it 10th place worldwide with the score indexes of 86% in technology and 95% in data science. Bulgarians also have high proficiency in the English language.
The average agency rate in the country is 56.3 USD, which is nearly as much as the Polish average.
Potential disadvantages: Bulgaria has around 24,000 developers and several hundred outsourcing companies. This is about 10 times less than Poland or Ukraine. Hence, your choices would be more limited and it might take some time to find a suitable tech partner in this country.
Cost of IT Outsourcing to Eastern Europe
Our team researched the prices of various Eastern Europe software development companies on Clutch.co and calculated country averages, May, the 5th, 2023; Source: Clutch.co.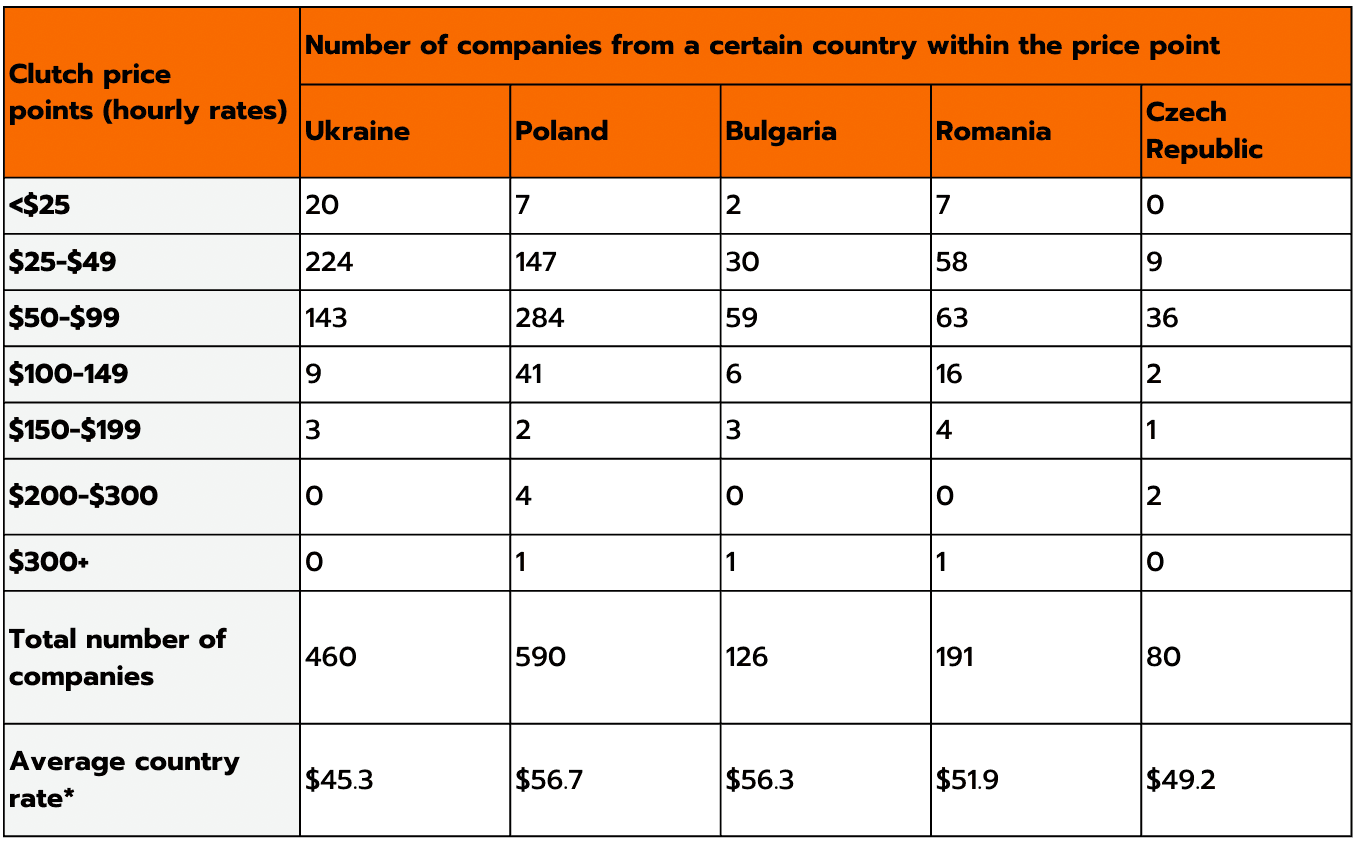 *To calculate the average country rate, we multiplied the number of companies in each price point on its average ($12.5 for <$25, $37 for $25-$49, $300 for $300+, etc.), added the received numbers and then divided by the total number of companies representing a country. For example, for Ukraine, the equation is: (20 × $12.5 + 224 × $37 + 143 × $74.5 + 9 × $124.5 + 3 × $174.5) / 460 = $45.29
As we can see, Ukraine's rates are the lowest on average. The highest rates are in Poland and Bulgaria.
Conclusion
Ukraine is the best option for Eastern European outsourcing. Ukrainian companies provide excellent quality and have the lowest prices. Moreover, the country's tech expertise exceeds outsourcing – it is a top European destination for Research & Development centers (Google, Microsoft, Siemens, Samsung, Oracle and 100+ other companies have established R&D centers in the country).
If money is not an issue, you can opt for Poland – it scores high in various international ratings measuring tech aptitude and innovation. Furthermore, Polish people have excellent English skills. Other top IT destinations in the region include Romania, the Czech Republic and Bulgaria.
FAQ
1. Why outsource to Eastern Europe?

Companies opt to outsource software development to Eastern Europe vs Western Europe or other regions because of lower prices, high expertise, a big pool of tech talent, good cultural fit and strong data security.
2. How many developers are in Eastern Europe?

There are around 1 million developers in Eastern Europe. Of them, 250 and 280 thousand live in Ukraine and Poland, respectively.
3. How much does it cost to hire programmers in Eastern Europe?

On average, Eastern European software development companies charge between 40 and 60 USD per hour.
4. Why is Ukraine a popular destination for outsourcing?

Ukraine is a popular destination for outsourcing because it has the best prices, high expertise, a large talent pool (250,000+ developers) and a steep IT industry growth (around 40% per year).