Hiring software developers can be tedious and costly, with many aspects to consider. Depending on the stage of company development, the CEO might need to figure out what tech is required for the project, what experts are needed, whether to have an on-site or a remote development team, where to look for developers and how to choose the best ones. Yet, having the right team members is a prerequisite for business success.
In this article, we will compare the costs, advantages and disadvantages of hiring developers in the UK vs Eastern Europe. The presented information will be relevant for anyone in search of developers. However, the main objective of this piece is to provide insights for UK companies, including startups.
Hiring Developers in the UK
Your first option is creating an in-house development team in the UK.
The current state of the UK tech industry
The UK is one of the largest tech hubs in the world. In 2022, the value of the UK's tech industry exceeded 1 trillion USD, making it the third largest in the world, following only the US and China. It is an undisputed leader in Europe, twice the size of its contender, Germany (467 billion USD) and three times bigger than France (307 billion USD).
Since the year 2000, 400 high-growth startups have emerged in the country, each worth more than 250 million USD. This includes 144 unicorns – businesses valued at more than 1 billion USD.
8 UK cities boast the largest concentration of tech innovation, each home to two or more unicorns. These are London, Edinburgh, Oxford, Bristol, Leeds, Cambridge, Manchester and Nottingham.
The highly competitive nature of the British tech industry makes it challenging for smaller companies to engage the best talent.
How much does it cost to hire a software developer in the UK?
High demand and cost of leaving mean that hiring UK developers is expensive. They are the highest paid in Europe and third highest globally, after the US and Canada. An average UK developer earns around 46,300 GBP per year. For reference, this is 23% higher than in France and more than double the cost of hiring a software developer in Ukraine.
The exact price typically depends on the location, level of expertise and skill set. Thus, on average, a front-end UK developer in London earns 54,060 GBP annually. A junior front-end developer in this city makes 32,560 GBP per year, a middle-level expert – 55,540 GBP and a senior – 68,650 GBP.
Software development in-house incurs other costs too. For your convenience, we calculated the average cost of running a small development team in the UK.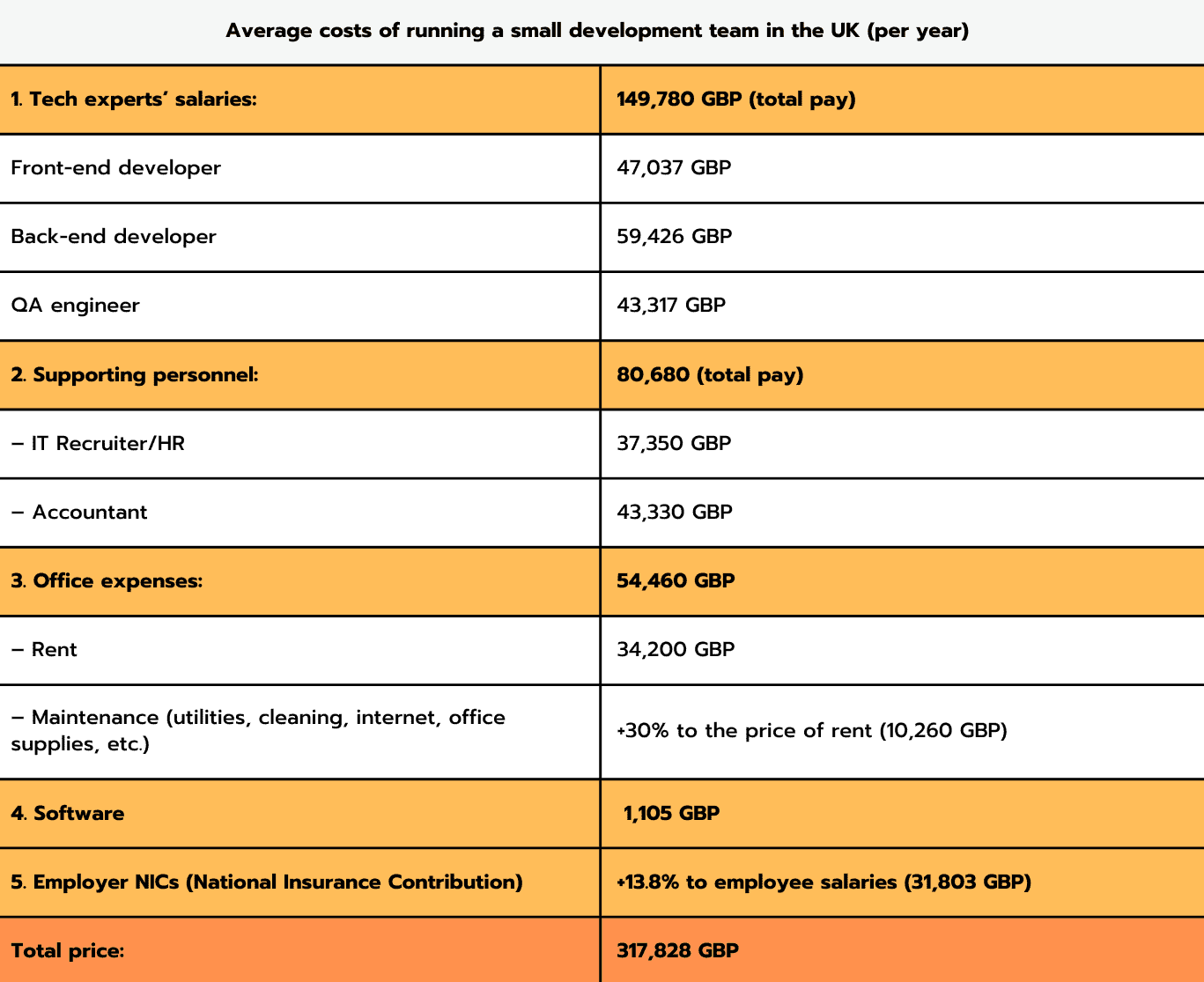 1. Salaries
The average annual salary for a front-end developer across the UK is 47,037 GBP. For a back-end developer, this is 59,426 GBP and for a QA engineer – 43,317 GBP. These are average UK salary numbers from Glassdoor. The website provides total pay numbers – gross income before taxes plus additional benefits and bonuses. Keep in mind that the location also impacts the price – developers in London, Oxford or Cambridge earn more than the ones in Nottingham or Leeds.
In the following chapters, you can find a table comparing costs for in-demand IT experts in the UK and several countries in East Europe.
2. Supporting personnel
When hiring in-house workers, you need at least an IT recruiter/HR and an accountant to help you run your business. Depending on your needs, you might also require the services of a lawyer, a project manager, a UX/UI designer, or other experts. On average, an IT recruiter/HR plus an accountant would cost you around 80,680 GBP.
3. Office expenses
If you are unwilling to commit to a fully remote workforce, you need an office. For example, the average price of renting office space in London is 700 GBP per desk per month. On the other hand, prices in most other UK cities are lower: 650 in Cambridge, 375 GBP in Bristol, 373 GBP in Manchester and 325 GBP in Leeds. The national median is 475 GBP. This does not include additional associated expenses like utilities, cleaning or food.
Thus, renting an office for 6 people (5 employees plus their CEO) in the UK can cost around 2,850 GBP per month or 34,200 GBP annually.
Office maintenance costs, like electricity, running water, cleaning services, internet, office supplies, etc., add about 30% on average to your rent.
4. Software
Your team would likely need project management and collaboration tools, an internet hosting service for software development, such as GitHub or GitLab and accounting software. For project management, you can use Jira or Asana. Both programs have free versions with limited capacities. If you need to upgrade to access extra storage space or features, Jira's Standard plan would cost you 790 USD for 6 people annually, and its Premium plan would cost 1,525 USD. Asana's Premium plan would be 791 USD and its Business plan – 1800 USD.
Your team can collaborate via Slack. It has a free version, but you would likely need at least the Pro version, which costs 522 USD for 6 people annually. Slack also offers the Business+ version, which would be 900 USD.
GitHub and GitLab have free versions (GitLab is free for individuals only). However, paid plans offer stronger security and more features to increase the productivity of your employees. GitLabs's Premium plan would be 684 USD annually for three people (your tech experts). The company's Ultimate plan would cost you 3564 USD, which is a worthy investment considering all the extra features. GitHubs' Team pricing plan would be 132 USD and its Enterprise package – 693 USD.
For accounting software, you can use FreshBooks or QuickBooks. They offer free trials. If your business has up to 5 billable clients, you can use FreshBooks's Lite version for 122 USD annually. QuickBooks' cheapest plan is Simple Start which costs 152 USD a year.
Prices for all software are provided, assuming you pay for a year in advance. If you pay monthly, rates can be higher.
Suppose you use Asana's free version, Slack's Pro version for 522 USD, GitLab Premium for 684 USD and QuickBooks Simple Start for 152 USD. This amounts to 1,358 USD or 1,105 GBP.
5. National Insurance Contributions (NICs)
As an employer in the UK, you need to pay taxes. First, this includes deductions from your employees' salaries, which we already accounted for by providing you with "total pay" numbers – salary before taxes plus benefits.
Another tax you must pay is Employer National Insurance Contributions (NICs), also known as "secondary contributions". The rate is 13.8% for each employee earning more than 758 GBP monthly. Employers might be exempt from paying this tax for specific categories of UK citizens.
In our case, NICs add 31,803 GBP to your expenses annually.
All of this gives us a total price of 317,828 GBP.
Advantages and disadvantages of in-house teams
Whether remote or on-site, an in-house team offers some perks but has certain shortcomings compared to alternative models.
The benefits of in-house UK dev teams
The advantages of assembling an in-house team are:
– No language and communication barriers
While the UK can boast an increase in diversity over the past decades, most UK residents are fluent in English. Other communication barriers resulting from cultural differences are also less likely to arise.
– Face-to-face meetings are easier
With offline workspaces, face-to-face meetings are not an issue. Remote UK developers and other experts can hop on a train and be in your office in several hours – luckily, the UK has an excellent rail network. On the other hand, colleagues living in other countries would have to take a flight, meaning more time and expenses.
– Deeper corporate culture
In-house teams can potentially develop a deeper corporate culture with more insight jokes and shared experiences.
H4 Disadvantages of hiring in-house developers in the UK
There are also significant disadvantages to a UK in-house development team:
– Exhausting hiring process
Finding suitable developers can be difficult, particularly when competing with other companies for the best talent. And the demand for the best UK developers is exceedingly high – 46% of offers are declined because a person has already accepted another offer.
Under such circumstances, you will need a lot of time and resources to fill a position. And there is always a risk of hiring a mediocre performer.
– Development is more expensive
Hiring in-house developers can be expensive since you must provide competitive salaries, benefits, office space, equipment and potentially additional resources such as HR and management support.
– Less flexibility
Firing someone while complying with local regulations can be a challenge. Considering reputational risks and the costs of attracting suitable experts, many companies choose to continue employing people even if their services are not needed for months. With outstaffing, you can quickly scale your team up or down as needed. Dismissed employees would not need to look for another job. The agency will offer them another project.
– Potentially less team diversity
Diversity and inclusivity improve teams and products. It enhances creativity and problem-solving capacities and helps developers understand their customers better.
– Legal obligations
As an employer, you are required to create a safe and fair workplace environment, comply with labour laws and handle all formal employee grievances. This can be challenging, particularly if you are a small business with limited HR resources.
Pro tip #1: Offer remote anyway
When done right, remote work can be more effective than office work. Therefore, even if your team is in the UK, offering a remote option will benefit you. Most people in the UK view working from home as a distinct advantage. According to surveys, 78% of respondents reported an increase in work-life balance, 53% – fewer distractions, 52% – a decrease in time needed to complete tasks and 47% – an increase in well-being. Remote and hybrid work is particularly common with high earners (40,000+ GBP per year). Thus, by offering remote, you will have an easier time attracting suitable candidates.
Moreover, you have more chances to find top talent for a reasonable price. After all, if a developer lives in Bradford, their cost of living is significantly lower than if they lived in London or Manchester. Plus, they save money on commuting and enjoy more free time – an hour commute one way amounts to a whopping 10 hours per week!
Pro tip #2: Consider combining in-house with outstaffing and outsourcing
When it comes to hiring models, you don't have to choose either/or. Many companies have a small core development team in the UK plus a dedicated software outsourcing team in Eastern Europe.
One common way to organise IT operations is doing in-house innovation research and software development while outsourcing more trivial day-to-day IT operations. It doesn't mean, however, that Eastern Europe software development companies aren't capable of groundbreaking research. Many international companies set up their Research & Development divisions in this region, particularly because of the high concentration of top talent. You will find examples later in the article.
Another option is using staff augmentation services to engage the top tech talent to work on your team. Under this model, you can hire an experienced, skilled developer in under two weeks for about half the price of a UK specialist. Collaboration with an outstaffing software development company in Europe also brings flexibility and additional project risk mitigation options – if needed, you can rapidly scale up your team for any period.
Hiring Developers in Eastern Europe
Eastern Europe has over 1 million developers, around 250 thousand of which reside in Ukraine.
Did you know the Ukrainian tech sector is one of the fastest growing globally? The country's ICT (Information and Communications Technology) exports increased by 158% from 2017 to 2021 – a tie with Ireland for the fastest growth rate in Europe. Even the war didn't have much impact on the Ukrainian IT industry (unlike on the rest of the economy) – Ukrainian IT companies retained 95% of their contracts and continued to increase exports. By October 2022, the Ukrainian tech sector had already exceeded pre-war levels.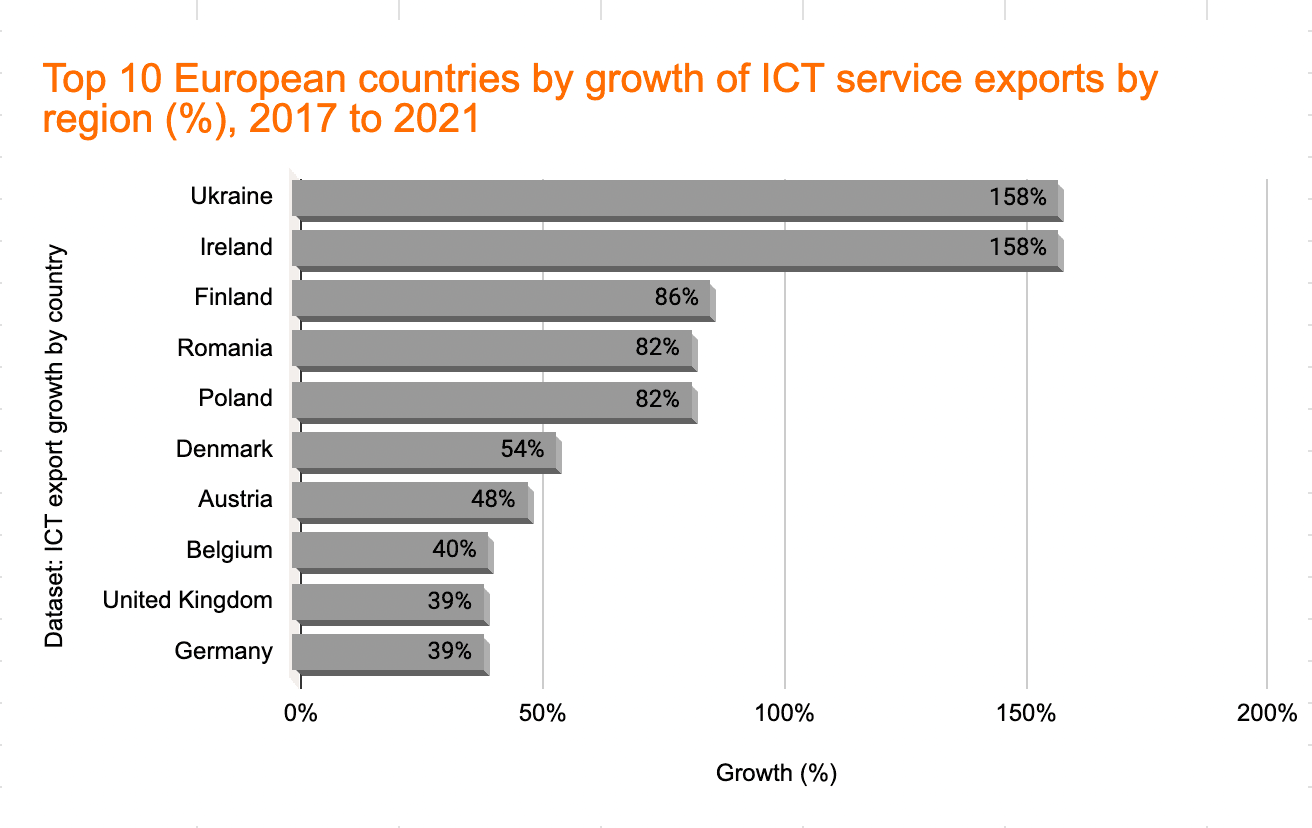 The country is the birthplace of many international tech giants, including numerous unicorns. Famous Ukrainian companies include Grammarly, GitLab, People.ai, Preply, RefaceAI and Ajax Systems. The first three have already reached the evaluation of 1+ billion USD. Ajax Systems is expected to join them soon. Other unicorn companies founded or cofounded by Ukrainian developers include PayPal, WhatsApp, Ring, airSlate, BitFury, Firefly Aerospace, Sila Nanotechnologies, Affirm and Revolut. This is a tribute to the quality of the Ukrainian tech sector and the qualification of its workforce.
Moreover, over 110 international giants have established Research & Development centres in Ukraine, including Google, Samsung, Microsoft, Siemens, Boeing, BlaBlaCar, Reddit, Ericsson, Lyft, Oracle, Ring (now belongs to Amazon), ABBYY, Payoneer and Glovo. Aside from the highly qualified workforce, businesses with an R&D in Ukraine benefit from a favourable legal and tax regime.
The State of European Tech 2022 report has devoted a whole section (starting at page 80) to spotlight the incredible achievements of the Ukrainian IT industry.
The cost of hiring software developers in Eastern Europe
The costs of hiring a software developer in Eastern Europe vary, depending on the country, seniority level (junior, middle, senior) and skill set. You can expect the following hourly rates (in GBP) for front-end developers, back-end (Java) developers and QA engineers: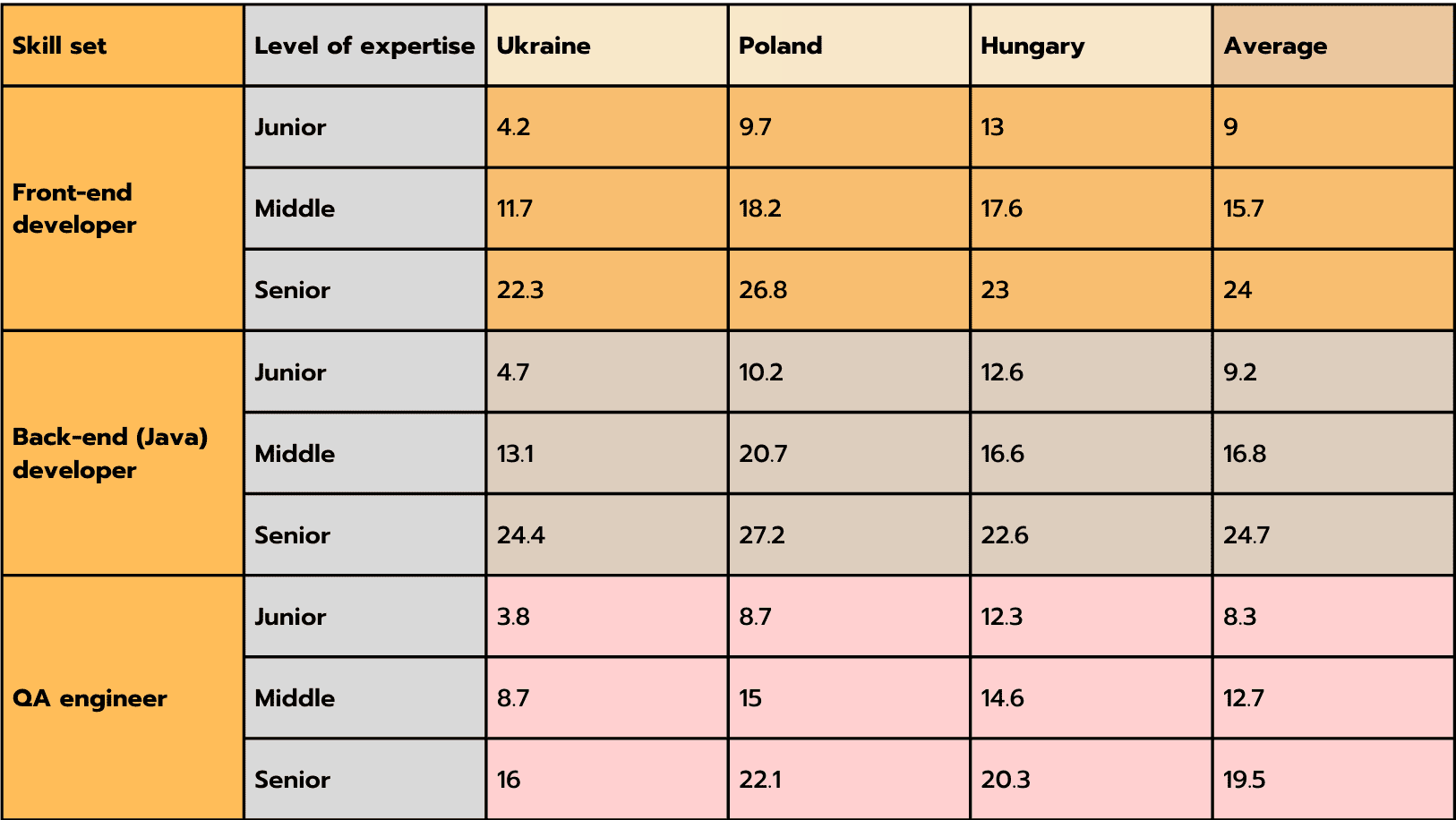 Sources: Dou.ua for Ukraine, JustJoinIT for Poland and BlueBird for Hungary.
Regarding the skill set, front-end developers must know JavaScript. The back end, however, can be written in different languages. The most popular back-end languages are Java, C# and PHP. In the table above, we provided rates for Java developers.
As you can see, hiring junior and mid-level experts is cheaper in Ukraine than in Poland or Hungary. Senior developers cost about the same in Ukraine and Hungary but are more expensive in Poland.
In the next section, you can find a table where we compare the costs of hiring various tech experts in the UK vs Eastern European countries.
Now let's calculate how much you would need to hire a small development team in Eastern Europe. Assuming you employ middle-level experts, average costs would be:
For a 15.7 GBP/hour wage (front-end developer), the annual salary would be 30,770 GBP. For a 16.8 GBP/hour wage (back-end developer) – 32,930 GBP and for a 12.7 GBP/hour wage (QA expert) – 24,900 GBP. Combined, tech experts' salaries are 88,600 GBP annually.
For these calculations, we assumed the experts work 40 hours per week and 49 weeks per year. The remaining three weeks should be dedicated to a vacation. If you hire experts via an agency, you usually pay for working hours only and the agency covers the rest. Thus, Softkit covers employees' sick days, days off and vacations. Moreover, we provide employees with all the necessary equipment. This reduces your business costs while ensuring transparency and predictability.
An agency fee is typically +30% of the developer's salary. In our case, this is 26,580 GBP. Services of the supporting personnel, including HR and accounting, are provided and paid for by the agency. The same goes for the software. 88,600 plus 26,580 gives us a total cost of 115,180 GBP.
Previously, we calculated that running the same team in the UK costs 317,828 GBP. This means hiring a team in Eastern Europe is 64% cheaper than in the UK.
Moreover, hiring developers specifically from Ukraine is even more cost-effective. You would have to spend around 23,000 GBP for the services of a middle front-end developer, 25,700 GBP for a middle back-end (Java) developer and 17,000 GBP for a mid-level QA engineer. This totals 65,700 GBP. The 30% agency fee would be 19,710 GBP, bringing costs to 85,410 GBP. This means that software development in Ukraine is 73% cheaper than in the UK and 26% cheaper than the Eastern European average.
Advantages and disadvantages of outsourcing to Eastern Europe
We gathered the top benefits and disadvantages of software outsourcing in Eastern Europe.
Benefits of hiring developers in Eastern Europe:
The advantages of outsourcing/staff augmentation are:
– Faster hiring
You can hire a developer or even a whole team within two to three weeks by outsourcing or using staff augmentation. In-house hiring will likely take at least three months.
– Wider talent pool
With more than a million developers and software engineers for hire in Eastern Europe, you can find people whose knowledge, experience and qualifications perfectly match your project needs.
– Lower price, better value-for-money ratio
Offshore software development rates are expectedly lower. For example, in Ukraine, you can hire a full-time developer for under 25,000 GBP annually.
At the same time, expertise and the quality of services are some of the highest in the world, bringing the VfM ratio highly in favour of outsourcing.
– Flexibility
With outsourcing, companies can hire software developers for any period – from several months to several years and beyond. Moreover, executives can quickly scale the development team up or down as needed.
Disadvantages of software outsourcing in Eastern Europe
Outsourcing has several shortcomings:
– Potential language barriers and collaboration challenges
Eastern Europeans can communicate with you in English on business-related topics, but they tend to be less eloquent than their British counterparts. Hence, you can encounter various collaboration challenges when discussing complex technical issues or making critical real-time decisions.
– Remote only
An offline meeting is possible, but most work will be done remotely.
Comparing the Cost of Hiring Developers in the UK vs Eastern Europe
For convenience, we created a table comparing software developer hourly rates in the UK and several Eastern European countries.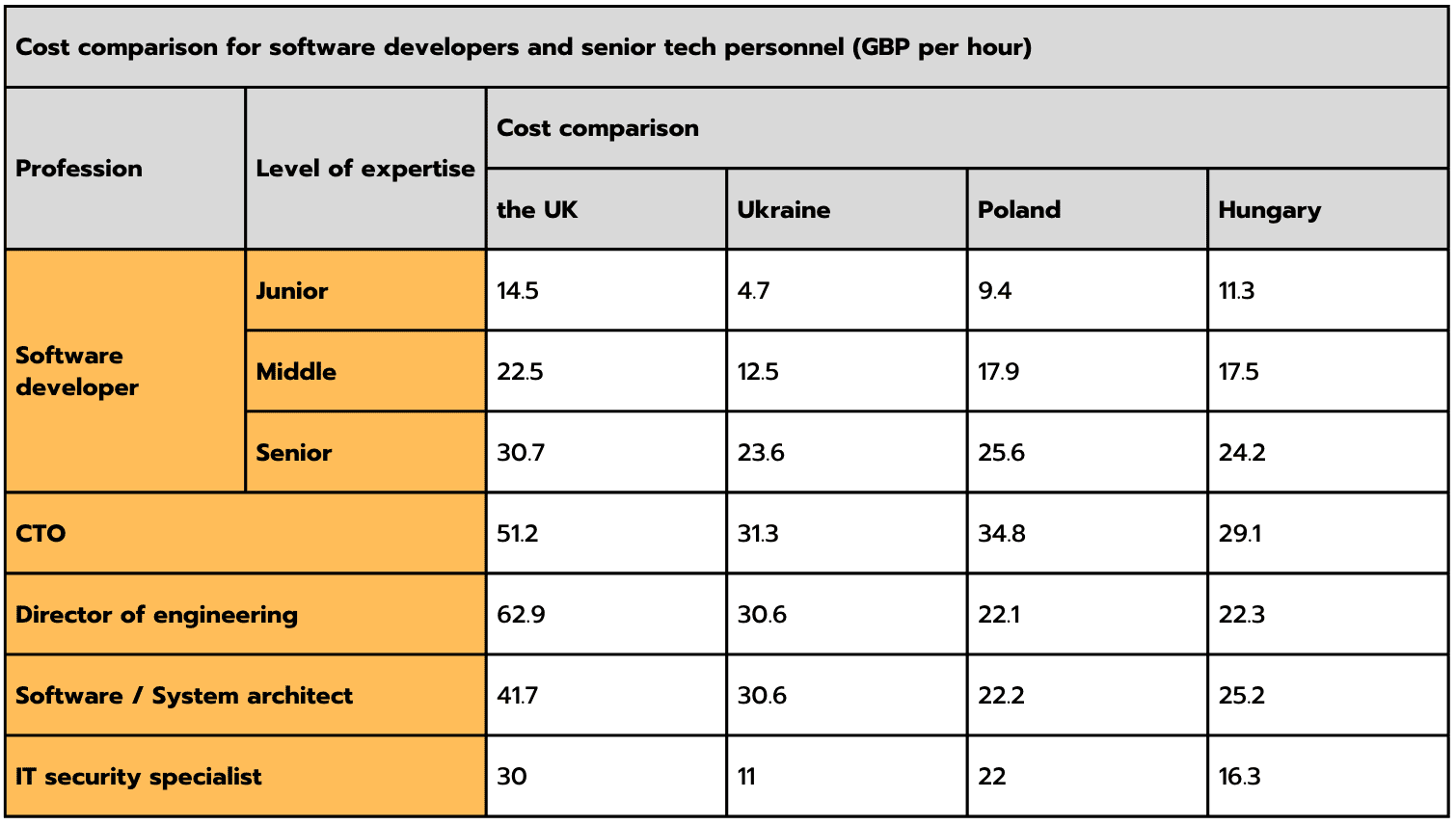 Why the cost difference?
There are three major factors contributing to the cost differences between hiring developers in the UK vs Eastern Europe:
1. Living costs
Living costs in Eastern Europe are significantly lower than in the UK. Thus, according to Numbeo, consumer prices, including rent, are 62.4% lower in Ukraine than in the United Kingdom.
2. Taxes
Many Eastern European countries have created favourable conditions for the development of tech industries. In Ukraine, most IT experts are registered as private entrepreneurs. They pay a 5% tax on their income, plus a fixed contribution to the pension fund – around 33 GBP per month. In the UK, on the other hand, employees face around 24% net average tax rate on their income. Though, pensions in Ukraine can be laughably small – less than 70 GBP per month.
3. Supply-demand ratio
With over a million developers in Eastern Europe, the supply-demand ratio here is far healthier than in the UK. One reason is the high number of IT graduates. Ukraine alone produces 70% more IT graduates than the UK.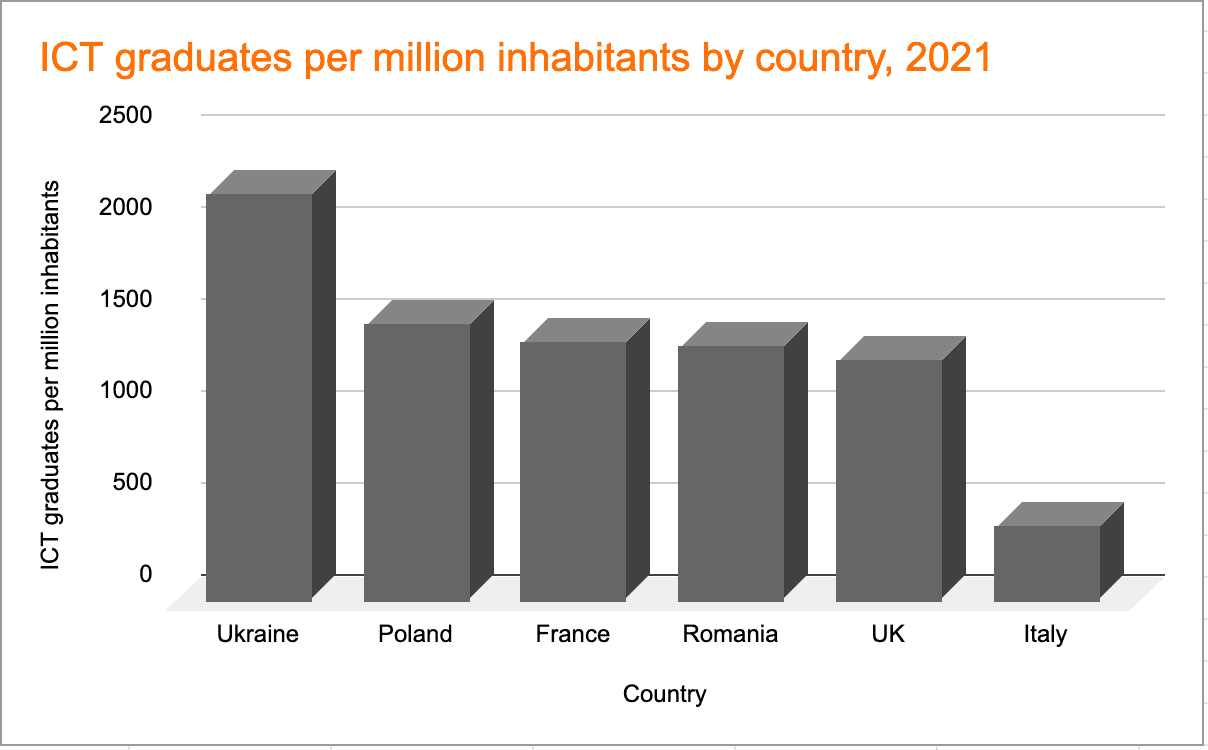 Factors to consider when choosing between in-house teams and outsourcing
There are three main factors to consider when deciding whether to hire a software developer in-house or use outsourcing/staff augmentation services.
1. Do you consider a remote mode of work?
You would be communicating with the offshore agency mostly via digital means. Hence, if you only consider on-site office development, you need an in-house team. If not, the world is your oyster.
2. Do you have time or budget constraints?
If you have significant time or budget constraints, outstaffing or software outsourcing in Eastern Europe is a better option. You will skip the long and tedious hiring process, plus you will have the support of the agency – their expertise and the ability to scale the operations fast if needed.
3. Do you know the ins and outs of your future project?
If you lack clarity, consider software outsourcing in Eastern Europe. An offshore agency likely has extensive experience creating various types of software. They can provide you with invaluable insights.
Conclusion
To sum up, companies that hire software developers in the UK have a harder time recruiting suitable candidates. However, they benefit from their superior English language skills and more profound corporate culture.
At the same time, hiring software developers in Eastern Europe ensures a better value-for-money ratio – decreases development costs while providing access to a vast pool of highly qualified developers.
Regarding rates, in the UK, a software developer for hire would likely expect around 22 GBP per hour, assuming they have several years of experience (before taxes, including benefits). In Ukraine, you can hire a software developer with the same qualifications for around 12 to 13 GBP per hour. In Poland, the rate would be 19 GBP, on average and in Hungary – 17.5 GBP. The biggest contributors to the price difference are the disparities in living costs, taxes and workforce supply-demand ratio.
If you are considering outsourcing or staff augmentation services, Softkit is ready to help.
FAQ
1. What is the hourly rate for software development in the UK?

In the UK, on average, software developers for hire expect 22.5 GBP per hour (including benefits, before taxes). This is the rate for a middle-level expert.
2. How to hire developers from Eastern Europe?

The easiest way is to engage developers via an outsourcing/staff augmentation agency. If you are a well-established company with ample resources, you can consider opening an office in Eastern Europe.
3. How much does it cost to outsource software development?

A small team of 3 tech experts working on your project for 6 months can cost you around 57,590 GBP.