Reasons for using staff augmentation and managed services abound, from getting access to the global talent pool to cutting costs and optimizing the development process. But what is the difference between the two? And which is better for your business?
In this article, we will compare staff augmentation vs. managed services, discuss how they work, and explain the advantages and disadvantages of each.
Definition of staff augmentation
The staff augmentation model, also known as outstaffing, is a practice when companies temporarily hire professionals provided by IT service agencies. Staff augmentation is used when an enterprise needs to expand an existing development team.
How does the staff augmentation model work?
Collaboration under the staff augmentation model can be broken down into stages:
Defining project goals and requirements
Accurately defining project scope, goals and requirements are crucial to understanding the range of skills and the level of experience of an ideal candidate. Often companies know precisely what they need. In other cases, the vendor helps their client establish applicant requirements.
Selecting the most qualified candidates from the talent pool
The outstaffing provider selects befitting candidates based on their qualifications, experience, soft skills, and cultural fit. Upon interviewing the applicants, their client decides who will join the project.
Read our Guide to Identifying the Perfect Developer for tips on interviewing developers.
Minimal and straightforward paperwork
The company enters into an agreement with the outstaffing agency. Therefore, employees do not need work permits.
Onboarding and subsequent quality control
After the onboarding, the agency controls the quality of services provided by their employee.
If services are no longer required, the contract can be terminated. It is simple.
Pros and cons of the staff augmentation model
Staff augmentation has benefits and disadvantages compared to hiring in-house experts and using managed services.
The benefits of outstaffing:
Staff augmentation benefits all parties. Employees can work on diverse, exciting projects. The agency receives a fee for its services. Advantages for the companies are the following:
Extensive talent pool and simple international hiring
A frequent reason why companies engage staff augmentation services is struggling to attract suitable talent in their region/country. For instance, Scandinavian countries face acute shortages of middle and senior developers. Outstaffing allows them to engage international talent.
Moreover, under this model, you can easily find experts of any seniority level to work on your project, from gifted juniors to experienced CTOs. Read our guide on how to choose a CTO to learn more.
Flexibility to power innovation
Staff augmentation services enable companies to scale their teams up or down as needed. Unlike with in-house staff, the company will not face any legal or reputational risks of firing people. Moreover, outstaffing is an easy way to scale up a development team to meet deadlines.
Hiring speed
Finding a suitable candidate for an in-demand position can take four to six months. Furthermore, in some countries, like Sweden, an employee's resignation notice period can be three to six months.
On the other hand, under the staff augmentation model, a new employee can join a project within 2 weeks! This is crucial when deadlines are tight.
Cost-efficiency
In most cases, outstaffing is more cost-efficient than hiring in-house team members. There are two main reasons for this:
Lower labor costs without compromising on quality
There are several tech hubs worldwide with a high concentration of qualified developers. The cost of living in many such regions is lower than in the US or EU, but the levels of expertise are some of the highest in the world. Case in point – Ukraine. According to CNBC, 20% of Fortune 500 companies have remote development teams in the country. Overall, more than 2 hundred thousand developers reside in Ukraine.
Under the outstaffing model, you do not technically hire anyone but engage the services of another company. Therefore, you do not have to pay the same local taxes as the in-house team members.
Retaining control
An advantage of staff aug vs. managed services is the complete control over your operations. Thus, you know well what is going on in your IT development supply chain. If you opt for managed services, choose companies with transparent policies and hiring processes.
Outstaffing disadvantages:
Project management is your responsibility
Suppose you need to create a product but lack time, knowledge or organizational resources to execute the project yourself. In such a case, you should opt for managed services, not outstaffing.
Remote-first culture
The overwhelming majority of staff augmentation companies provide services remotely. This is not an issue for most companies these days. However, those who strongly prefer the office-first mentality might struggle to find a suitable outstaffing provider.
When talking about onboarding, Softkit is open to both online and offline procedures. For instance, we provide staff augmentation services to the Volvo Group, and meeting our colleagues face-to-face in Sweden was a heartwarming experience.
If you don't have much experience managing remote team members, check out our article on how to organize effective communication and collaboration in remote development teams.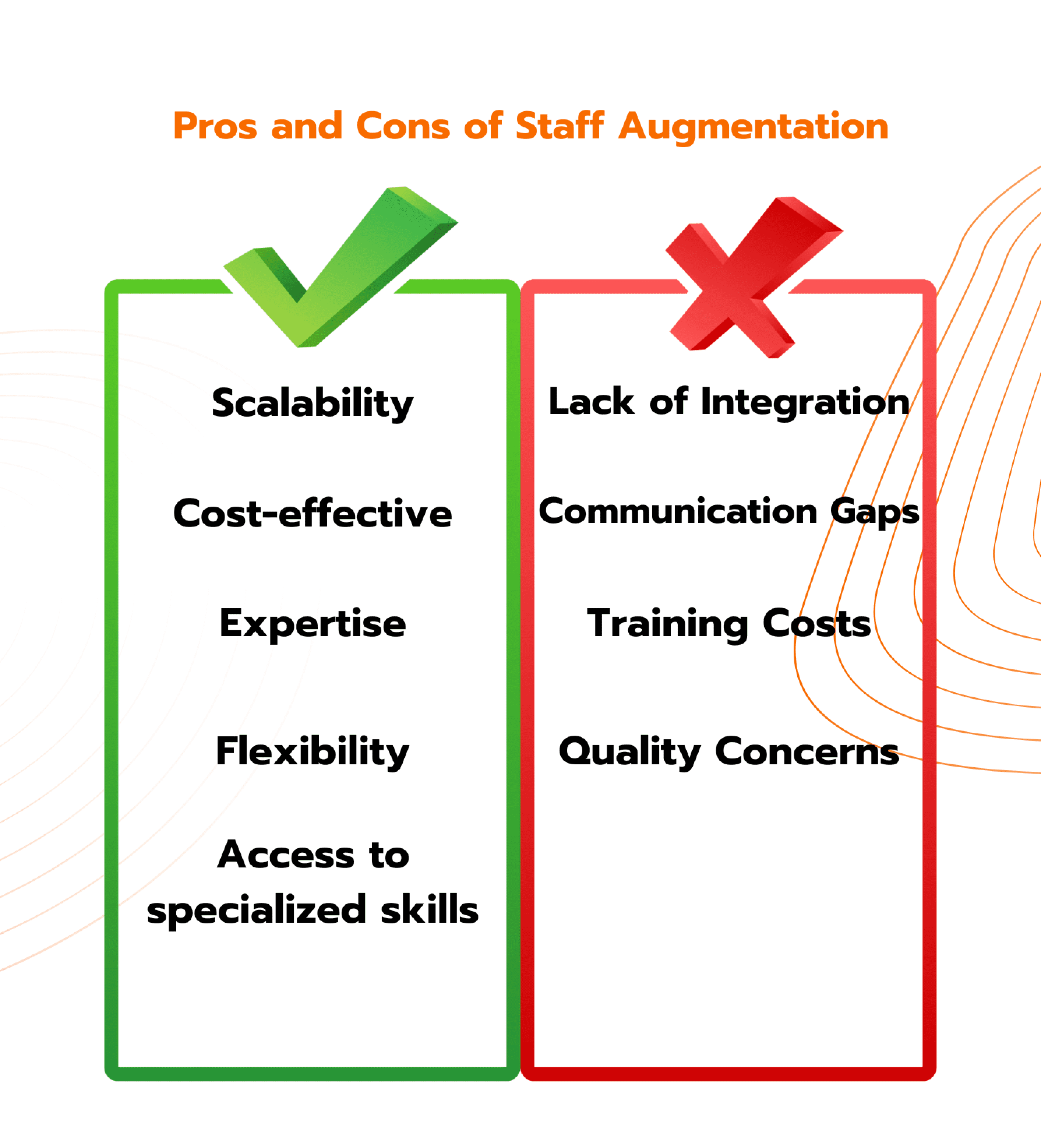 Definition of managed services model
The managed services model is when a business hires a third-party vendor to create a product or deliver services. Such cooperation can be project-based or ongoing. The main difference between IT managed services vs. staff augmentation is that the former entails a holistic approach to development. Under this model, the development agency is fully responsible for planning and executing projects or operations. Managed services cover everything from software development and IT infrastructure management to security and marketing.
In other words, with managed services, a company can outsource middle management and focus on developing its long-term vision and strategic goals.
The term managed services is often used interchangeably with outsourcing. However, the latter is a broader term and does not always mean managed services.
How does the managed services model work?
Cooperation steps between the client and contractor under managed services model vs. staff augmentation are somewhat different. In the case of managed services, these are:
1. Gathering and analyzing requirements
A contractor must clearly understand the client's strategic goals, vision and overall processes.
2. Planning the project or service delivery processes
The contractor creates plans for service/product delivery. During this stage, it is essential to set priorities, determine milestones and KPIs.
3. Project execution or service delivery
When the plans are being put into action, communication is crucial. The managed services provider should regularly notify their client of progress made.
4. Testing and collecting feedback
Quality perfection is the key component of managed services. Hence, testing is of paramount importance. Equally critical is feedback from the client on the results of provided services. Do they benefit the company and the stakeholders? What can be improved?
This stage is closely intertwined with the previous one. These two steps can repeat multiple times, one after another.
5. Ensuring continuous delivery and support
Whether a one-time project or an ongoing collaboration, the contractor should always be ready to provide their clients with further support and make upgrades when necessary.
Pros and cons of managed services
So, what are the main benefits and disadvantages of managed services compared to staff augmentation and in-house teams?
The advantages of managed services
Focus on a bigger picture
What is the primary focus of your company? Are you making food? Or tires? Something else? Comparing the managed services model vs. staff augmentation, the former allows a company to focus efforts on its niche. After all, specialization is what drives the world economy.
Flexibility
Your contractor will likely have access to many experts who can speedily join the project whenever there is a need to scale up. This is necessary if deadlines shift forward and you have less time to complete a project. Or if you need to complete more tasks than initially expected within the existing timeframe.
Scaling the team down is equally simple. Your company will not have to fire anyone or endure expenses related to an unproductive workforce.
Expertise, support and reliability
Companies specializing in IT services know the latest technology trends and innovations. They have a more comprehensive selection of experts working with various tech tools. Hence, they have the versatility, knowledge and expertise to find the best solution for your needs.
Share project risks
Another difference between managed services and staff augmentation is in risk allocation. Examples of risks in IT can include personnel quitting, tech failing, the market not responding to a developed product, etc.
Most risks come from not knowing what you are doing. Therefore, it is best for a project when each party is responsible for risks they can manage better. For example, if a company has done market research and realized that a new feature would benefit their business, they can hire managed service providers to create it. Then the service provider will be responsible for delivering the new feature on time and integrating it with other systems for a smooth workflow. Of course, a qualified IT contractor can share their insights on whether this solution is the most efficient to meet companies' underlying objectives.
Lower costs, better quality
Similarly to outstaffing, managed services providers often work remotely from countries with a lower cost of living than in the US or EU. At the same time, they are highly qualified professionals with excellent programming, communication and language skills. The quality increase is likely because members of managed teams are used to working together. They know the strengths and weaknesses of each other and how to balance them.
Also, managed teams might invest in specific tools to streamline their workflows. Their costs will be divided among all contractor projects.
The disadvantages of managed services
Less control
You will have less control over tasks with managed services. Hence, it is vital to choose a trustworthy and reliable tech partner – to have peace of mind that everyone in your supply chain operates ethically and complies with local legislation.
Remote-first
Similarly to staff augmentation, managed services are usually provided remotely. Hence, if you have some physical infrastructure in your facility, like servers, you might still need someone on your team who can take care of it. An alternative is switching to cloud infrastructure.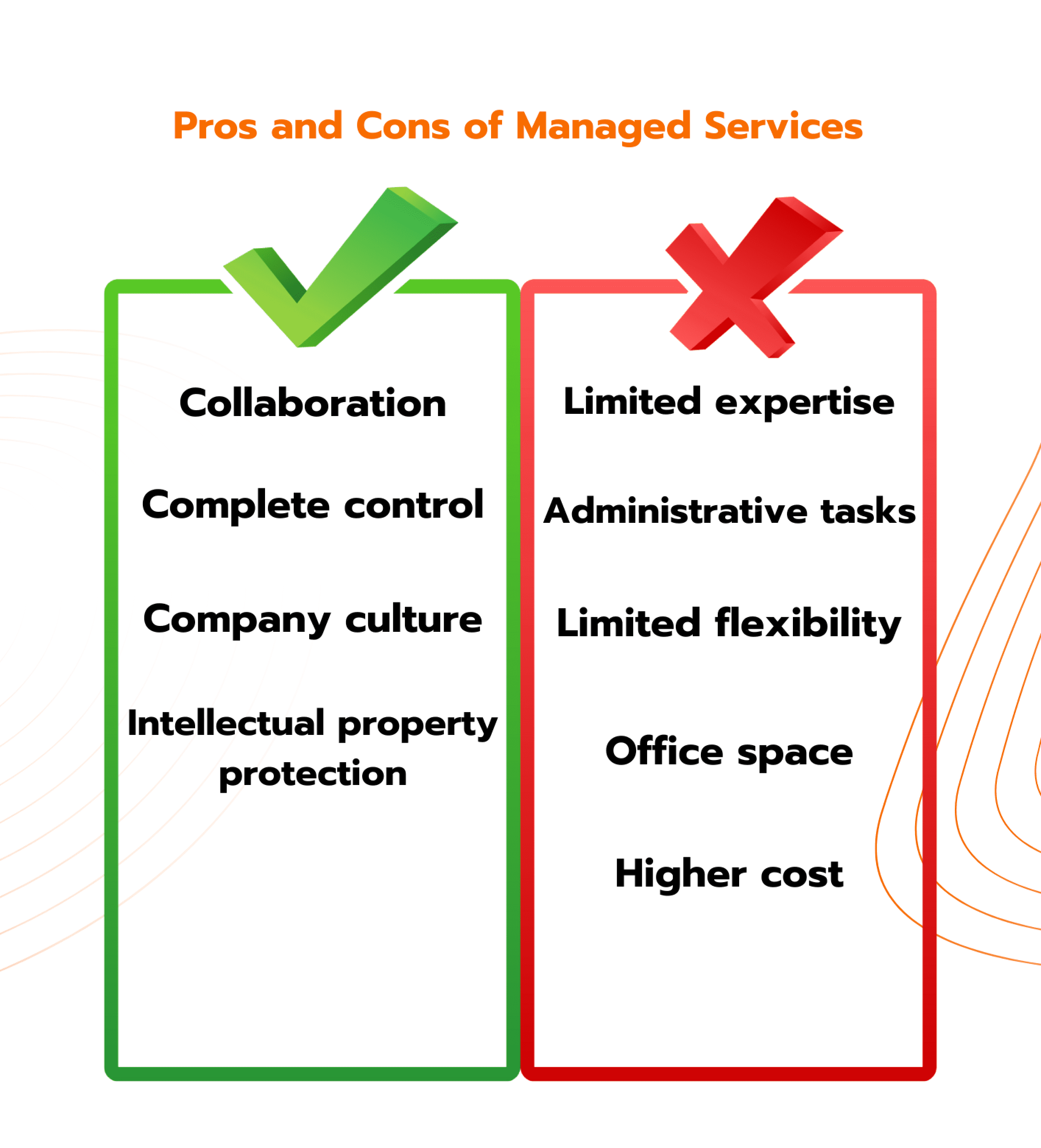 Comparison table: staff augmentation and managed services
For your convenience, we created a comparison table of IT staff augmentation vs. managed services: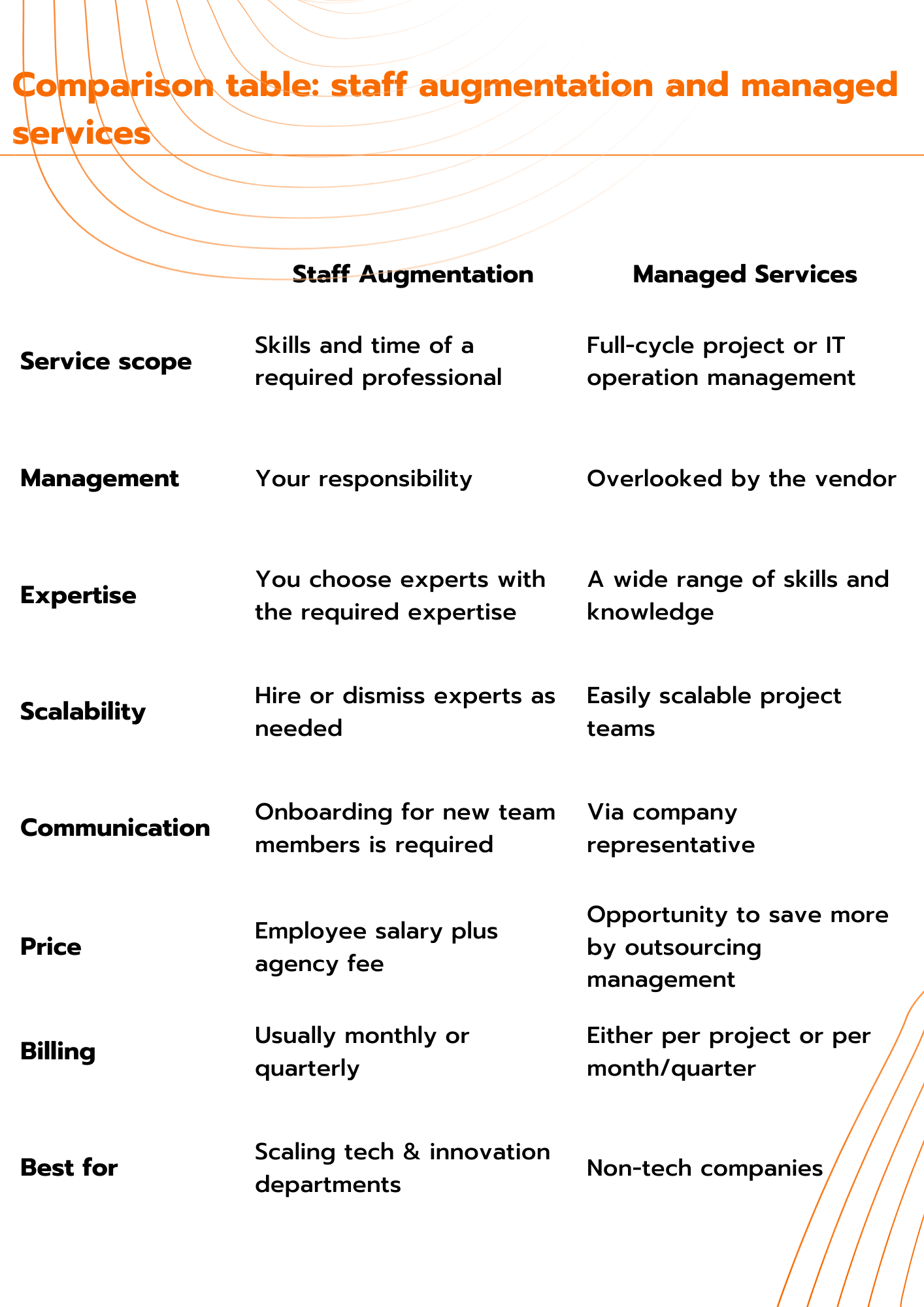 What method is better for your company?
This would depend on your needs and current situation. For example, for tech companies who want to outsource the drudgery of managing day-to-day IT operations, managed services are a perfect choice. This will allow such a team to cut costs and focus on innovation.
Most non-tech companies also should choose managed services. This model will enable them to concentrate on their primary domain while bringing in the required tech expertise. Managed services are particularly beneficial for startups and enterprises that do not have an IT department yet.
On the other hand, the benefits of staff aug vs. managed services abound for tech-focused companies. They can engage unique talents to accelerate innovation, scale teams up and down, cut costs, etc.
In some cases, staff augmentation can be a transitional step towards completely outsourcing your IT needs to a dedicated managed services team.
Expert advice
There are several key aspects to pay attention to when choosing an IT service provider:
Transparency and compliance with local laws and regulations
Prospective providers should be open to any security clearances you deem necessary. You can specify in the contract that they must comply with local laws. For example, make sure that your provider doesn't use pirated software to work on your project. Also, no minors should be engaged in work processes in any capacity. Remember, if your supply chain is revealed to have issues, your company's reputation is at risk.
Communication and language skills
What is the use of a vendor's brilliant tech skills if they cannot understand your needs and requirements? They might end up doing something wholly useless and irrelevant.
Reviews, current clients and customer retention rate
Check out vendor reviews on independent websites. Ask them who their current clients are and what is the average retention rate. Can they support provided numbers with documentation?
Consider Softkit Your Trusted Partner
Softkit is an experienced provider of staff augmentation and managed IT services. Our projects include:
Providing staff augmentation services to the Volvo Group for their vehicle connectivity project
For this project, we ensured 99.9999999% product uptime, designed and executed testing which covered 85% of the code and developed multiple valuable features. Read the Volvo Group case study or contact our sales department to learn more.
Optimizing IT processes for 1800 Flowers
For 1800 Flowers, we set up data transfer from all its subsidiaries to Akeneo, developed microservice infrastructure, optimized cloud service usage and more.
Co-creating SOLD.com
Softkit was the co-creator of a successful startup, SOLD.com. Now, it is a multimillion company - a real estate platform with hundreds of thousands of users. It heavily utilizes Big Data capabilities to power its business.
Providing staff augmentation for Ciconia Software GmbH – a German IT services provider
We had the pleasure of participating in several projects of Ciconia, including the development of a Marktfee app – a marketplace for sustainable grocery shopping and a white-label solution. Another project was helping GBG Group, the largest municipal housing association in Baden-Württemberg, create an app automating communication between the company and its tenants regarding utilities and other services.
Softkit is committed to making each of our clients successful so that we will be successful with them. Learn more about our projects.
How to choose between staff augmentation vs. managed services model? - Conclusions
The choice of IT service model depends on your needs. Thus, tech companies can outsource their regular IT operations to a managed team. However, staff augmentation is often used to expand innovation development teams.
For most non-tech companies, their IT needs can be covered by a dedicated team. Check out our managed service vs. staff augmentation comparison table for more information.
FAQ
What is a managed capacity model in IT services?

Under this model, companies outsource some or all of their IT needs to a managed service provider. Read our "Definition of managed services model" section to learn more.
What are the benefits of staff augmentation vs. managed services?

The main benefits of staff augmentation vs. managed teams are retaining control over IT operations and hand-picking qualified experts to contribute to the project. Learn more in the "Pros and cons of staff augmentation model" section.
What are the benefits of managed services vs. staff augmentation?

The benefits include the ability to focus on innovation and strategic company goals, a more expansive pool of experts working on a project and lower costs due to management outsourcing. Check out our Staff augmentation and managed services comparison table.
How to find IT contractors?

Pay attention to their expertise, communication skills and track record of meeting deadlines. Consider Softkit as your trusted tech partner. Contact us, our sales department will gladly answer all your questions and explain the difference between staff augmentation and managed services.