Real estate is a multi-trillion-dollar industry. According to the latest statistics, 96% of property buyers use online tools during home buying. Furthermore, many locate realtors on the internet, necessitating real estate companies to develop a solid online presence and marketing strategy. This is where Big Data and analytics come in handy.
In this article, we will discuss how Big Data help the real estate industry, analyze how potential home buyers/sellers are targeted and provide 3 real-life use cases of Big Data in real estate.
How are the potential real estate clients' data collected?
In real estate, the amount of data used to identify prospective clients can amass petabytes of information and detail the interests of billions of people. Such vast amounts of data are called Big Data.
Big Data can offer unprecedented details and insights but also presents challenges regarding its analysis. So, how to track real estate clients with Big Data?
Tracking user interests and activity
Website owners and permitted third parties can track online user activity using cookies, web beckons or digital fingerprinting. These methods do not provide potential clients' names and contact info but their digital identity, enabling interested parties to target users with ads prompting them to visit or revisit their website. Examples of tracking real estate sellers with Big Data include:
Learning interests with thematic web resources
Web users can reveal their interest in selling or buying a house by visiting thematic websites – real estate marketplaces, articles on choosing a home, online mortgage calculators, etc.
Statistical profile matching
Companies can assume potential interest based on the general information available about a person. For instance, many first-time home buyers are typically around 36 years old. Profiling algorithms can get rather sophisticated and take into account a person's location, the state of the real estate market in their area, whether they have children, etc.
Building online presence using Big Data
Incentivizing prospective clients to share their contact info requires a successful online presence. Nowadays, it is not about the amount of content you create but how sensibly you do it. Two essential aspects of how to use Big Data in real estate web presence creation are:
Getting more traffic with SEO
Search engines, like Google, strive to put the most relevant links for each query first. Hence, websites use various strategies to optimize websites to search engines. The practice is called search engine optimization (SEO). Big Data resources, like Google Search Console, Google Trends and Ahrefs, provide necessary SEO insights, like what user behavior is typical for a particular niche.
Turning prospects into leads
As mentioned, moving website visitors down the marketing pipeline and turning them into paying customers requires getting their contact info first. One way to do this is by offering them additional information or complimentary services in exchange for registering. This can include access to real estate analytics or tools that use Big Data, such as:
Automated house valuation tools;
Analysis of real estate in a particular area;
Personalized mortgage advice or calculators;
AI-powered home construction/renovation estimation, etc.
This way of using Big Data in real estate for tracking clients brings them value and drives engagement.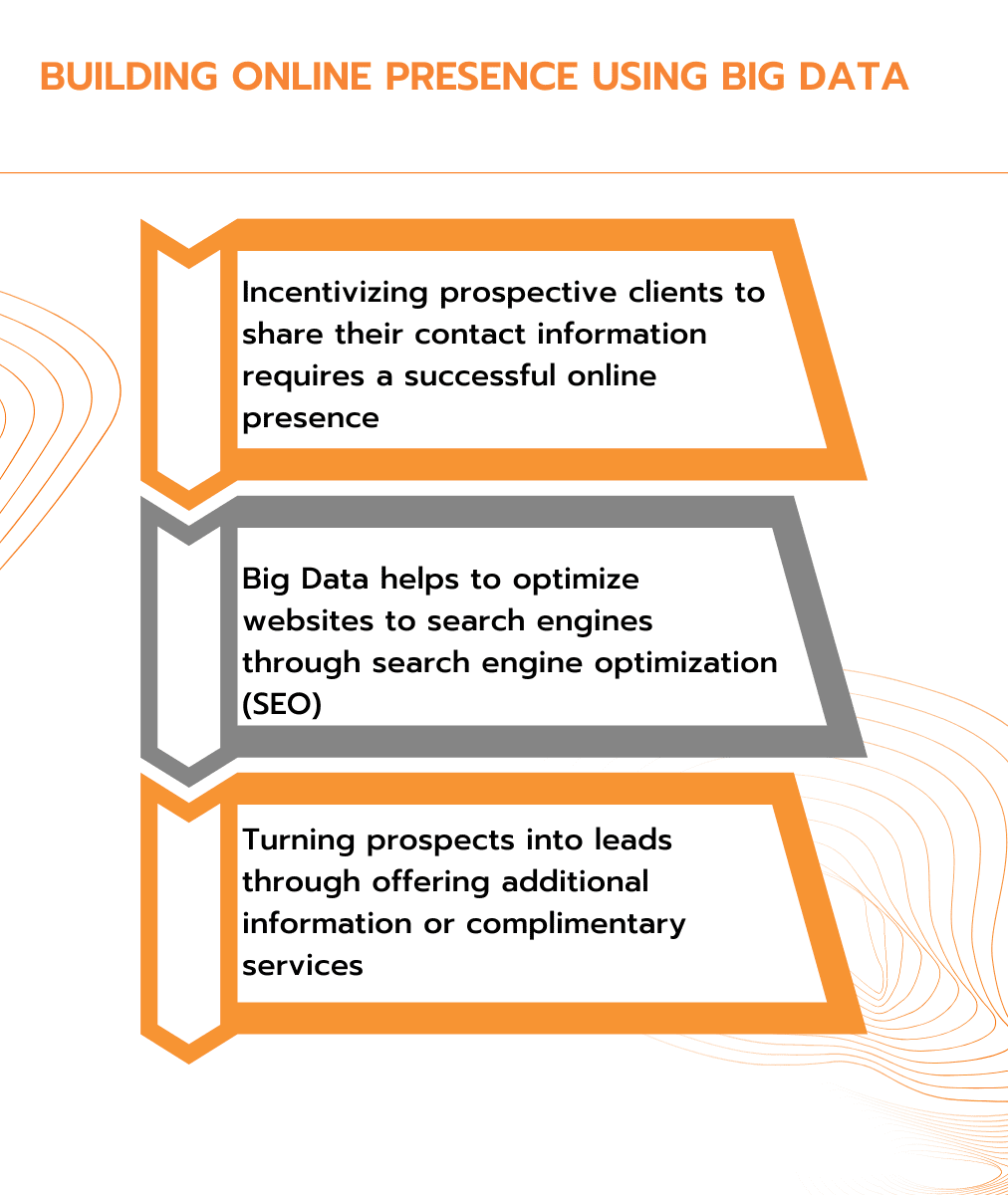 Three examples of tracking real estate clients
Let us discuss 3 real-life cases of using Big Data in the real estate industry:
Zillow – real estate company powered by Big Data
Zillow tops many lists of the US's most influential real estate platforms. The company's use of Big Data for involving real estate clients includes:
Propensity modeling to identify high-intend clients
The company uses Machine Learning and data about previous user interaction with their real estate products to train models to recognize high-intend home sellers and buyers. It allows them to personalize user experiences and focus marketing efforts more efficiently. For example, this helps decide whether the user would benefit from seeing upsell messaging from a local agent or more real estate recommendations.
Google Analytics
Zillow also uses some third-party tools powered by Big Data, such as Google Analytics. This tool provides essential statistics regarding website visitors – their number, location, where they come from (organic search, social media, email, etc.), whether they are first-time visitors or regulars, and so on.
Clickstream data processing with a Big Data pipeline
Clickstream is the path – the sequence of web pages that a user takes when navigating a website. Such data is crucial for understanding user behavior and how their experience can be optimized. Zillow created a Big Data pipeline to process and analyze their clickstream data.
Other Zillow Big Data use cases in real estate products include their home recommendation engine, automated property price valuation tool Zestimate, and much more.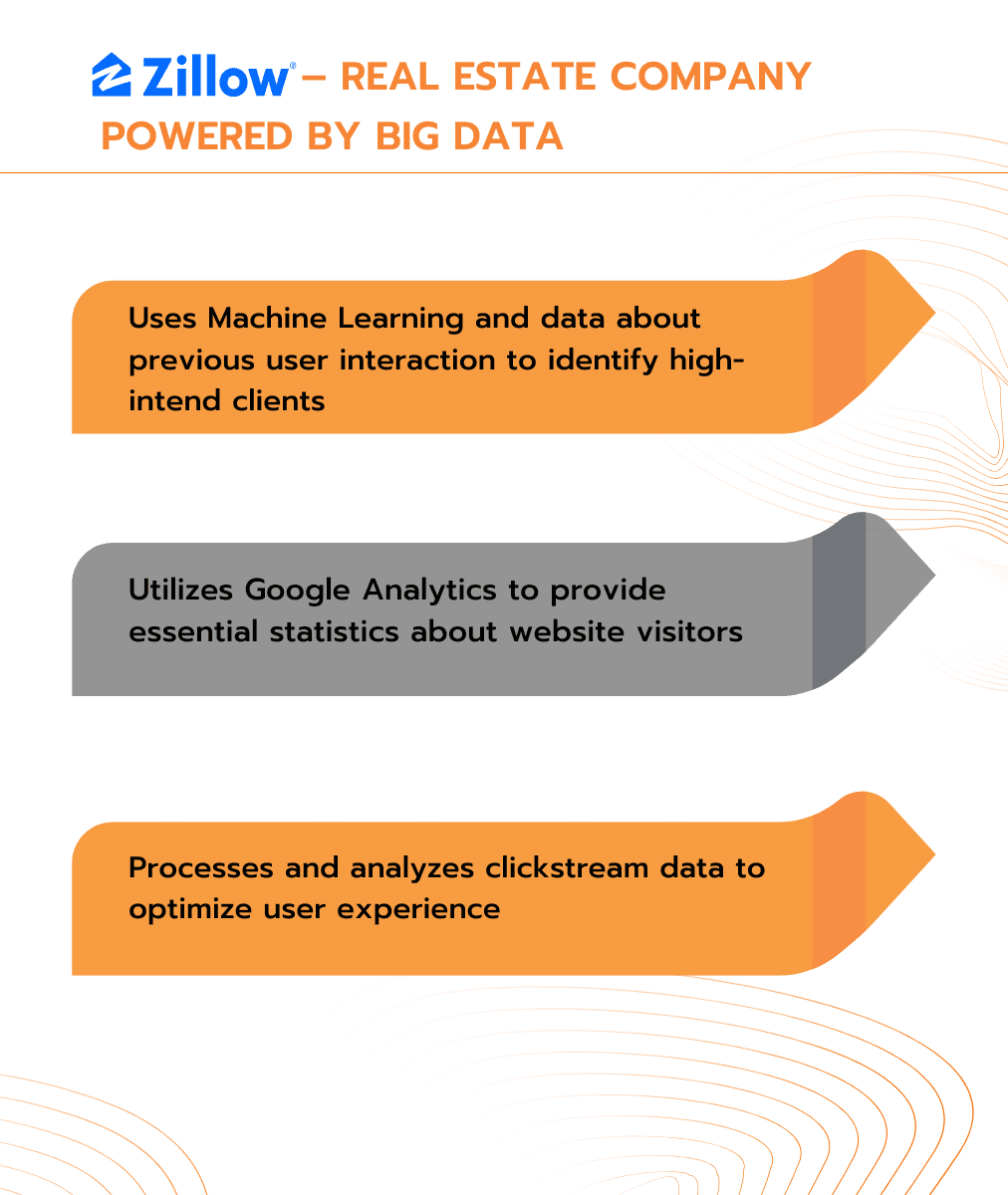 SOLD.com
– Big Data insights for the users

SOLD.com is one of our clients. Since we helped them build their platform, we can share more detailed insights into how the company uses Big Data to attract customers:

Google & Meta Ads

Google and Meta Ads are two powerful tools that utilize Big Data for marketing. Naturally, SOLD.com uses their potential by targeting likely home sellers and buyers. Moreover, with Meta Pixel, platform admins can retarget those who have visited the SOLD.com website, enticing them to return.

Segment.io for web analytics

Segment.io is an alternative to Google Analytics. It provides the company with data on its visitors, helping to increase user engagement.

Automated valuation model (AVM) & real estate market analysis using Terradatum

SOLD.com offers its visitors free access to an automated property valuation model and an analysis of the real estate market in their area. Our team used Terradatum API to enable these features. Terradatum, in turn, utilizes data from Multiple Listing Services – databases where realtors share info about the properties they sell.

Legal, financial, and architectural real estate data using Attom Data

With Attom Data, our client can provide its users with valuable property data, such as
The number of floors, bedrooms, and bathrooms;
Whether there is a mortgage on the property and how much of it was paid off;
The number of property owners and their shares;
Previous owner, how the property was bought and whether there were foreclosures, etc.
Such detailed information instills confidence in the competency of the platform and increases sales.
Data about realtors provided by Quantarium API
To provide users with relevant and accurate information about recommended real estate agents, the Softkit team integrated Quantarium API with the platform. You can read the SOLD.com case study to learn more.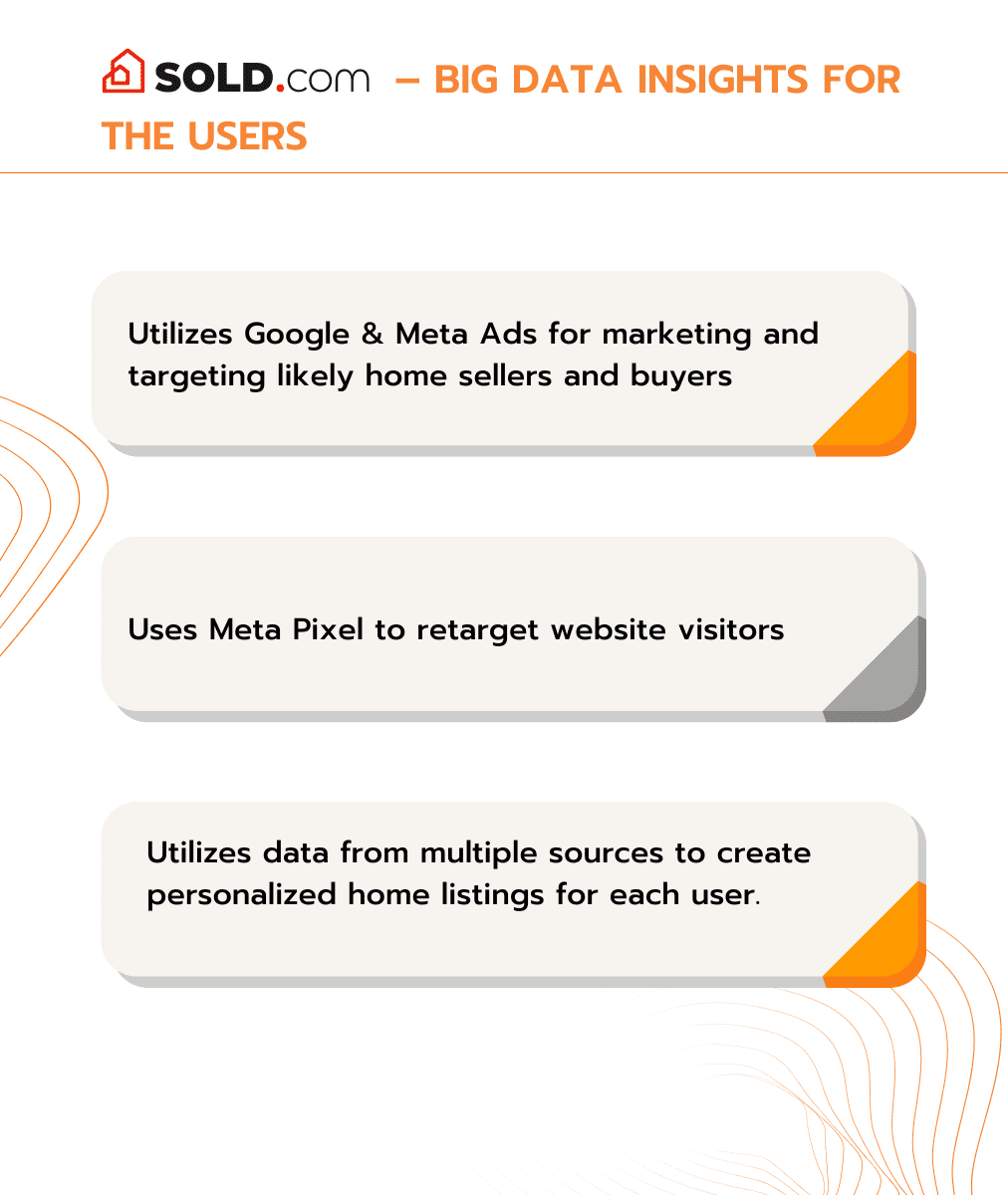 Realtor.com – Big Data drives personalization
Realtor.com is one of the most prominent players in the US real estate market and the second most visited real estate website after Zillow. Realtor.com's Big Data in real estate use cases include:
AI and Machine Learning to personalize user recommendations
The company's online search relies heavily on Big Data, Machine Learning and AI, which tailor recommendations to users for a better experience.
Buyer-to-realtor matching algorithm
The company's data science team created an algorithm that helps them match home buyers to the most suitable real estate agents. The algorithm uses Machine Learning and Big Data.
Other company processes using Big Data encompass inventory forecasting, price optimization and more.
How do real estate agencies use information about clients?
There are many ways and cases of using Big Data in the real estate industry. The ultimate goal is to improve company service, enhance user experience and increase profit.
Advancing real estate agency products
Using Big Data, data scientists can improve the accuracy of existing company products – platforms, tools and algorithms. Moreover, with client info analysis, management can make more informed decisions about new features.
Optimizing marketing efforts
Another way how real estate agents tap Big Data is through marketing optimization. Companies can automate the creation of personalized messaging – for instance, by sending emails with new listings that match previous user searches.
Powering predictive real estate analysis
Big Data is used to make predictions about the real estate market. The results of such analysis are then taken into account by various investment funds. Using collected Big Data, real estate agencies can also assist insurance companies with accurately pricing their property insurance services.
It is worth noting that real estate startups and small enterprises can purchase access to Big Data from data brokers, such as Attom Data, Quantarium, or Terradatum. Softkit's dedicated software engineering team can help you incorporate data from these and other sources into your product.
Consider Softkit your trusted partner
Softkit is a bespoke software development agency with vast experience in implementing Big Data solutions, including:
Co-creating SOLD.com
We were the co-creators of SOLD.com when it was just a startup. Now, 4 years later, Softkit remains the company's technical partner. Our team has introduced many new features and improvements over time. You can read about our Big Data solutions for the company above. Other project highlights include:
Creating the Partner Portal – a dedicated website that simplifies lead management for real estate agents.
Implementing paid realtor subscriptions – akin to Google ads at the beginning of search results, realtors can now advertise their services to interested parties. Softkit recommended this feature when the company struggled during the pandemic and it worked! It has increased SOLD.com's average revenue by 10k USD per month.
Setting up AWS Autoscaling – we decreased SOLD.com's AWS costs by 23.5%, saving them around 2k USD per month;
Integrating the platform with Salesforce – the company's database and website synchronize with the information in their Salesforce account.
Learn more about the project in our SOLD.com case study.
Contributing to Volvo Group's vehicle connectivity project
More than a million cars use Volvo's vehicle connectivity solution. Volvo trucks, buses and construction vehicles send information on various parameters to company servers. Data is used for fleet monitoring, increasing safety and fuel efficiency and more. Softkit participated extensively in project development:
Meeting rigid requirements for resilience and speed: 99.9999999% uptime, <500 msec request processing time, 4k+ requests can be processed per second during peak times, etc.;
Implementing Multi-region Deployment, DDNS and Geographic Load Balancing to process requests faster;
Collected data is used to improve safety – data related to accidents are thoroughly analyzed and used to make future generations of Volvo vehicles safer.
Creating a script for seeing potential software costs – with this self-written script for CI/CD deployment, developers can see beforehand how much deploying and running the developed software would cost;
Learn more about this project in our Volvo Group case study.
Being Distil.ai's trusted tech partner
Distil is a high-quality AI-powered marketing platform for Big Data analysis. We have been the company's partner for over 3 years, helping them develop new features and improve many aspects of their product. The highlights include the following:
Enhancing the AI algorithms using Spark – we made algorithms more reliable and decreased required resource consumption. This reduced equipment maintenance and acquisition costs by 6 times;
Re-engineering module for data-based user identification – one of the primary features of the software, it ensures that data from various sources is distilled, analyzed and associated with specific individuals, creating a coherent and comprehensive understanding of a person's interests;
Implementing multitenant architecture to ensure that terabytes of data can be processed;
Creating a dedicated data Analytics Portal by modifying an open-source portal called Apache Superset – this feature added 40% to the company's revenue!
Learn more about this project by reading our case study or talking to our sales manager.
How to use Big Data in real estate? – Conclusion
Big Data analytics powers many successful real estate companies. Using Big Data, customers can view properties from around the world on the screen of their gadgets. They can accurately approximate their property's value and discover detailed legal and financial information about the house or flat they are considering buying.
Real estate companies use information about user interests to make their products more relevant and reliable – it's a win-win situation for both parties. Undoubtedly, the future of Big Data in real estate is bright.
FAQ
What is the price of creating Big Data for real estate?

Costs will depend on your needs and approach. Access to Big Data provided by data brokers can cost around 12k USD per year. On the other hand, maintaining a dedicated data warehouse of 15TB might cost around 500k+ USD.
How to track potential real estate clients with Big Data?

Many marketing tools rely heavily on Big Data, including tools for web analytics, SEO and social media advertisement.
Is it legal to use this information?

Data obtained from open sources can be used freely. You can also use aggregate data about customer preferences and behavior as long as you do not reveal information that can identify someone, such as their name, address, phone number, etc. Otherwise, you need client permission first.
What are the cases of using Big Data in the real estate industry?

Big Data in real estate use cases include the development of automated property valuation models, real estate market analytics, ML algorithms to identify high-intent buyers/sellers and much more.